Optical Delusions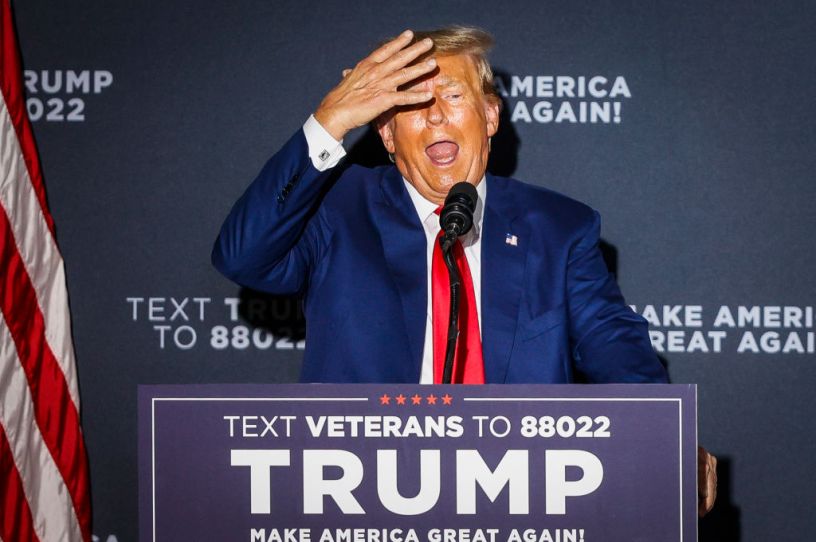 Former President Donald Trump delivers remarks at Windham High School. (Photo by Erin Clark/ Boston Globe/Getty Images)
If you've ever played chess with a little kid—or when you were a little kid (and not some mutant chess prodigy)—you probably know that kiddie chess is played one move at a time. What I mean is that little kids tend not to think very far ahead. My castle threatens Timmy's queen, so Timmy moves his queen out of the way without thinking about what that means for my next move. It's all in the moment.
Contrary to a lot of the early Trump boosterism about him being a 3-, 4-, or 11-dimensional chess player, this is how Trump argues—and lives!—most of the time. When he is challenged in the moment, he responds in the moment without much concern about the problems he might be creating for himself down the line. And because many of his defenders think that if Trump says something, it either must be true or it must be repeated as if it were true, they often echo his defenses without realizing what they're conceding.
Defending yourself into a hole.
This is why, when arguing with Trump diehards, one of my favorite tactics is to agree with them. For instance, one of Trump's early claims in the Mar-a-Lago documents scandal was that he declassified everything so it was okay for him to do whatever he wanted with the documents. So my response was, "Okay, let's say that's true." That's a colorable defense of the charge he broke the law, but it is an absolutely damning indictment of Trump's judgment.
Get every newsletter and all of The Dispatch. Support quality, fact-based journalism.
Start Your Free Trial
ALREADY A PAID SUBSCRIBER? SIGN IN