Uniform Stupidity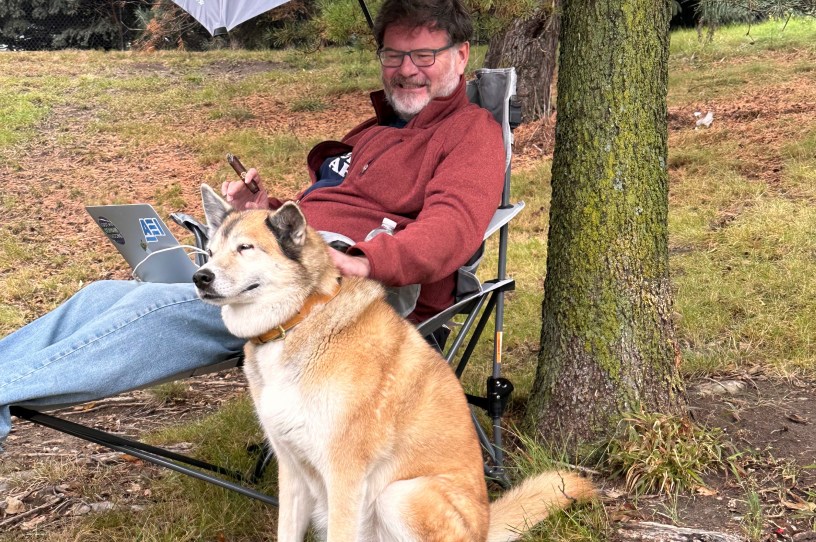 Jonah Goldberg (back) and Zoë (front). (Photo Credit: TFJ)
Dear Reader (especially those of you who lobbied to get wieners back on wheels),
I'm writing this in the parking lot of a Des Moines Hilton next to my RV in a camping chair that has a leg rest and an extendable umbrella to block out the sun or, in my case, a light rain. I'm smoking a cigar while wearing a T-shirt that says "None of the above" with a checkmark next to it.
I bring this up for a little travelogue color, but also to acknowledge that I'm a bit of a hypocrite for complaining about other people indulging their bespoke slobbishness. I just recorded a podcast in which I ranted about the Senate becoming a safe space for slobs to make life easier for Sen. John Fetterman, but not enough to fully get it out of my system.
Then, while looking for something to write about, I saw that I missed Nick Catoggio's take. I agree with him pretty much entirely, except for his concern about sounding like an old fogey. In fact, I am absolutely positive that I would have been much angrier about this when I was younger. For me, getting older means becoming mellower about such things. But I'm still appalled.
You're out of free articles
Create an account to unlock 1 more articles