What, Exactly, Should Israel Do?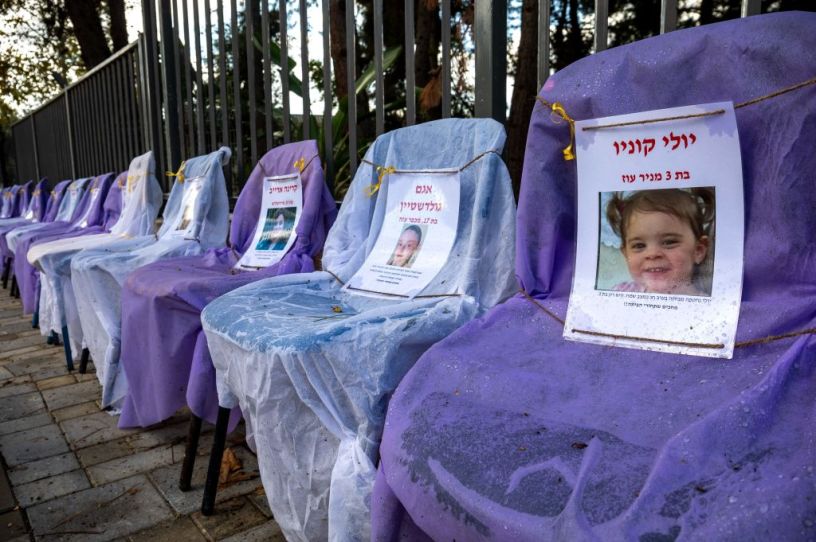 A display of empty chairs with photos of children kidnapped on October 7 near an elementary school, Jerusalem. (Photo by Yahel Gazit/Middle East Images/AFP/Getty Images)
Hi,
Let me explain why I think calls for a ceasefire are so misguided and, in some cases, grotesquely evil.
Let's start with the evil grotesquerie. On October 6, there was a ceasefire. Even that is generous—to Hamas. The terrorist group had been firing rockets into Israel prior to October 7. All Israel did was shoot them out of the sky as best it could.
Then on October 7, Hamas launched a massive invasion into Israel, raping, murdering, and torturing men, women, and children. They butchered the young and old, at least one pregnant woman, and gleefully slaughtered children in front of their parents and parents in front of their children. They stole babies to use as bargaining chips and human shields.
Among the immediate responses from Israel haters and Jew haters alike was to demand that Israel not retaliate. For instance, Alexandria Ocasio-Cortez called for an immediate ceasefire at 3:37 p.m. on October 7, about 40 minutes after Ilhan Omar did. At least they deplored the violence. Others celebrated it and reserved their anger for the Jews and friends of Jews who were dared to be offended by the slaughter of Jews.