Kevin McCarthy's Moment of Truth
Happy Monday! And Happy Hanukkah to all who are celebrating.
Quick Hits: Today's Top Stories
Kevin McCarthy Agonizes over January 3 Speakership Vote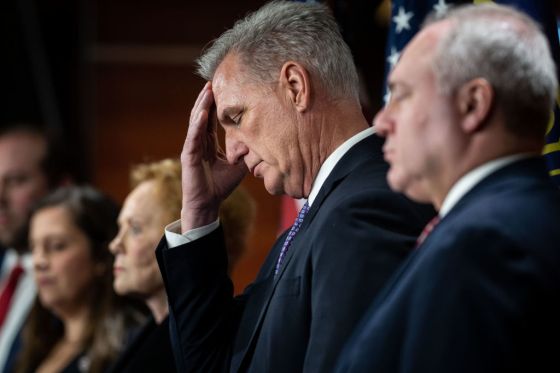 When we last provided an update on the race for the speakership in mid-November, Kevin McCarthy was the presumptive frontrunner who had to win over about 25 members on his right flank. He's still the presumptive frontrunner a little over a month later, but the political ground beneath his feet is getting shakier—and he's running out of time to lock it down.
"They have not moved," McCarthy complained in an interview with conservative radio host Hugh Hewitt on Friday. "It would delay everything, getting committees up and running, being able to do the things that you know we need to get done from the very beginning."
By "they," he was referring to five Republican members of Congress—labeled the "Knucklehead Caucus" by Hewitt—who have publicly declared they will never support McCarthy for speaker when the new House convenes on January 3 to vote on Nancy Pelosi's successor. For one reason or another, Reps. Andy Biggs, Matt Gaetz, Ralph Norman, Bob Good, and Matt Rosendale have vowed as a bloc to oppose their Californian colleague—no matter how many concessions he makes. When asked by Axios if he could foresee any scenario where he didn't vote against McCarthy, Biggs shook his head: "I could be dead, I guess."
Keep reading with a free account
Create a free Dispatch account to keep reading
Get Started
ALREADY HAVE AN ACCOUNT? SIGN IN