Stirewaltisms: A Tale of Two October Senate Meltdowns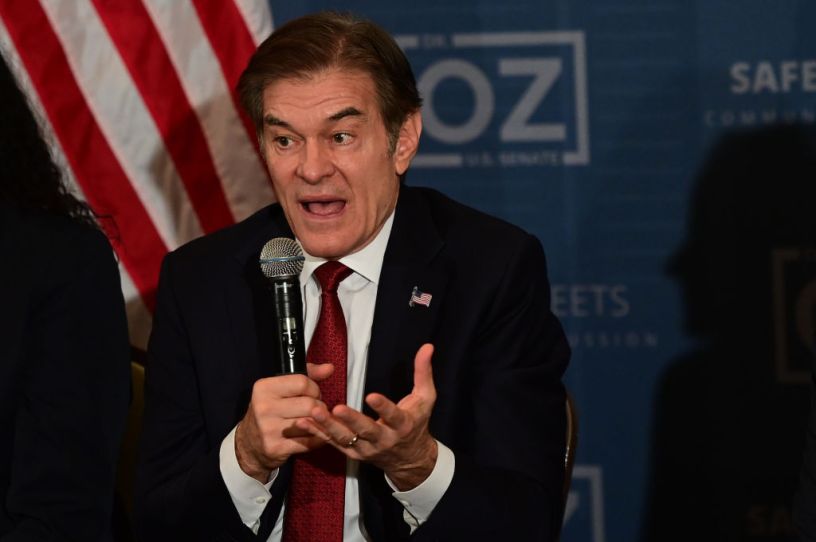 Republican Senate candidate Dr. Mehmet Oz. (Photo by Mark Makela/Getty Images.)
The Senate races in Georgia and Pennsylvania offer voters similar conundrums.
In the Peach State, the Senate nominee for the dominant party in the state is a man who has left a trail of wreckage in his wake. Whatever the facts of the most recent allegations against Herschel Walker, his reckless way of living has caused serious harm to those around him, particularly the children he left behind. While the abortion claims against Walker are new, his troubled, violent past had been known well before Walker's celebrity and former President Donald Trump's backing won the former University of Georgia football hero the nomination. It's been a sad story from start to finish.
But would Republican-leaning Georgia really rather have six whole years of progressive Democratic Sen. Raphael Warnock instead of the inevitable spectacle of sending a troubled, troubling man like Walker to the Senate? This is no two-year bounce like the one Alabama Republicans faced in 2017 when forced to choose between the lothario of the mall food court, Roy Moore, and moderate Democrat Doug Jones. Plus, Georgia cost Republicans the Senate in 2021 when Trump upended the two Senate contests there with his incessant whining about his own defeat and goofball claims about election fraud. Walker has been a huge embarrassment so far, but the hope, I assume, among the Republicans sticking with him is that Walker will follow orders when he gets to Washington and stay out of sight as much as possible. That's different from Moore, too, who promised to come and raise hell in the Senate.

Walker has agreed to only one debate, set for Friday night. This will be his best, and possibly, last chance to show Georgia voters that despite the wreckage of his past, he can at least manage to keep it together well enough to get by as a U.S. senator. It's admittedly a low bar, but not one Walker is guaranteed to surmount.
In Pennsylvania, like Georgia, the Senate and gubernatorial races look very different. In the Keystone State, Democrat Josh Shapiro seems to be walking away with the governorship against fringe-o Republican nominee Doug Mastraino. The Senate race between Democrat John Fetterman and Republican Mehmet Oz, on the other hand, has seemed to be closing a bit.