Stirewaltisms: Midterm Split Decision Goes Hard on Hogwash, Emotional Blabber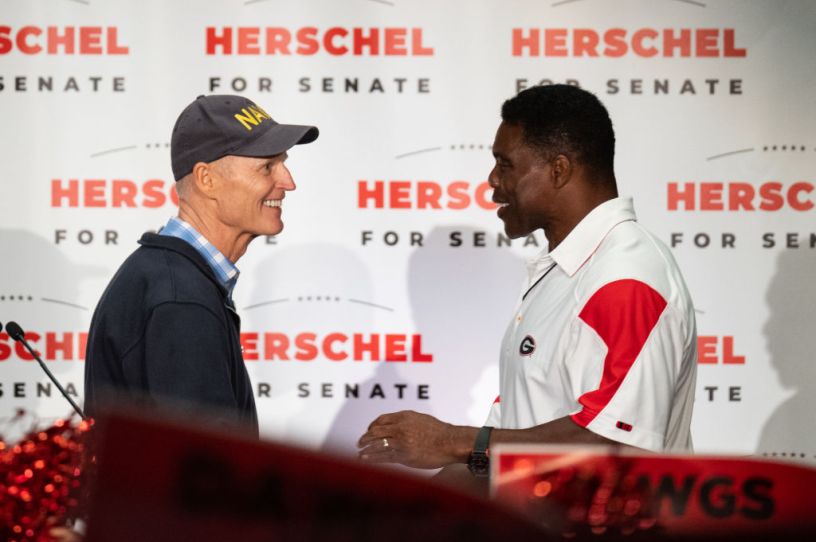 Sen. Rick Scott, R-Fla., campaigns for Herschel Walker. (Bill Clark/CQ-Roll Call/ Getty Images.)
It is a good thing that Election Day fell on the same week as Veterans Day this year.
Maybe today's reminder about what real public service looks like—sacrifice for one's fellow citizens—will seal in our hearts the main lesson of the 2022 midterms: Voters have had it with the selfish, power-mad political parties that have failed them for so long.
Republicans had puffed themselves up like a flotilla of Macy's Thanksgiving Day Parade balloons in anticipation of what they just knew was going to be a "red wave." Never mind that they had made no practical case for how they would govern besides abject opposition to the president in office. Never mind that they put together a slate of candidates from coast to coast that was as unserious as it was scammy. That national Republicans abetted the campaigns of candidates who ranged from tragically troubled (Herschel Walker) to chronically kooky (Don Bolduc) revealed a party so desperate for power that it was unworthy of holding it.
Republicans believed they could benefit from the same rhythms as those of the Obama era, when it was not necessary for Republicans to be serious or care deeply about candidate qualifications. It was simply enough to be a blank slate on which midterm voters could draw their own image of what change would look like. Democrats did it in 2018, so why not for the red team again in 2022?