Stirewaltisms: Of Gifts and Grifts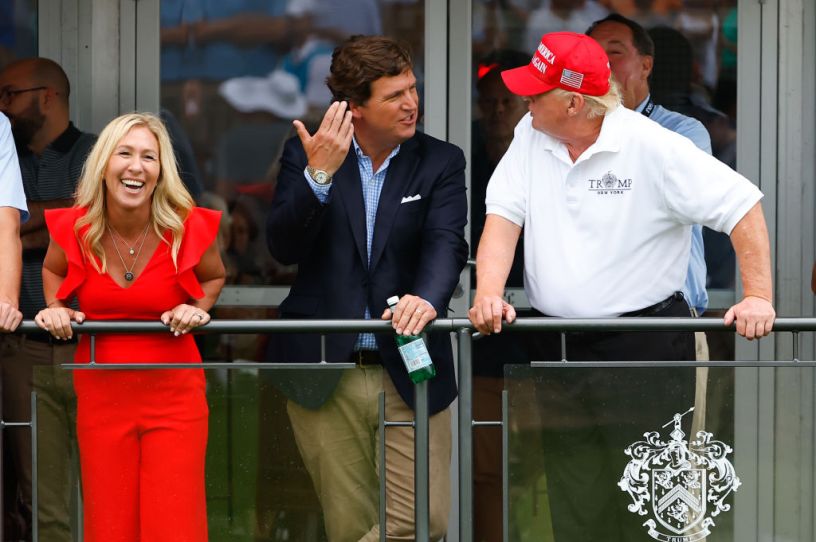 Marjorie Taylor Greene, Tucker Carlson, and former President Donald Trump. (Photo by Rich Graessle/Icon Sportswire/Getty Images.)
At a time of year when most of us are quoting lines from a famous work by Charles Dickens, I have been thinking about some other well-worn words from another of his books:
"It was the best of times, it was the worst of times. … Some of its noisiest authorities insisted on its being received, for good or for evil, in the superlative degree of comparison only."
It's not that I think the guillotines are about to come out like in the Paris of Dickens' description in A Tale of Two Cities, but I have been very much reminded this year of the human tendency to see things in too-stark terms and how that screws up our politics so badly.
Longtime readers will know my bugaboo about the arrogance of apocalypticism, but for those who have never been subjected, I'll recapitulate it quickly: The members of every civilization, every generation, every graduating class, etc., are prone to believe that they represent the pinnacle of achievement and are the product of a refining evolutionary process. The bad part about feeling like the culmination of history is that history will go on after you are gone, so the same arrogance that causes us to believe that we are the greatest ever, also requires that we think that we are close to the end.
Get every newsletter and all of The Dispatch. Support quality, fact-based journalism.
Start Your Free Trial
ALREADY A PAID SUBSCRIBER? SIGN IN