Stirewaltisms: Does Georgia Have One More 2022 Surprise in Store?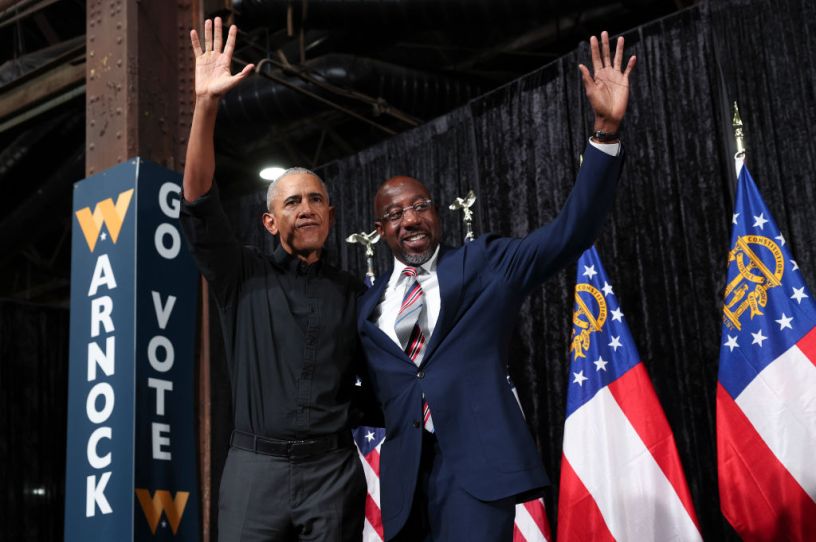 Former U.S. President Barack Obama campaigns with Sen. Raphael Warnock. (Photo by Win McNamee/Getty Images.)
Is Tuesday's Georgia Senate runoff a done deal for Democratic Sen. Raphael Warnock, or does the 2022 midterm cycle have one more surprise in store?

There have been only two public polls released ahead of the vote, one that shows the incumbent up 4 points on Republican challenger Herschel Walker, and one that has Warnock up by 2 points. These are not big margins, but in both polls, Warnock is above the 50 percent threshold with no significant number of undecided voters.
Plus, the atmospherics have been pretty dire in the closing days for Walker and the GOP. Another woman from his past came forward with troubling allegations about the former football star, claims that dovetail with the central message of the Democrats' closing argument about Walker's unfitness for office based on his past treatment of women and his children. To make matters worse, this week brought new questions about Walker's residency in the state, after tax documents showed that he had only recently stopped renting out the Atlanta-area home he claimed as his primary domicile.
And what has Walker been doing in this troubled time? He took a five-day break from campaigning around the Thanksgiving holiday. That may be a good thing in the case of a candidate who so often puts his foot in his mouth, but not if that candidate is getting outspent 2-to-1 on television and by probably an even wider margin on get-out-the-vote efforts.

Republicans also managed to shoot themselves in the foot with changes to voting rules plainly aimed at increasing their advantage in such a situation. The GOP's rule changes shortened the time between general election and runoff from nine weeks to four weeks, obviously expecting a situation in which a Republican would be protecting a lead from the general, like then-Sen. David Perdue in 2020. Now it's their man who is trailing and running out of time. Similarly, a unanimous state Supreme Court decision allowing Saturday voting over Thanksgiving weekend was a GOP misfire. Republican officials said state law forbade the practice because of the holiday, but Democratic-led counties sued and won. The result? Polls open in heavily Democratic precincts; polls closed in heavily Republican ones.

One last bid of unglad tidings for the Georgia GOP: Evidence suggests that black voter turnout nationally and in Georgia was as poor as it had been since before the Obama era. While that may not be good news long-term for a party that relies heavily on near-monolithic support from black voters, it is further cause for optimism for Dems in Georgia. The runoff system advantages the party with the most support from high-propensity voters, who tend to be richer and whiter than the electorate as a whole. Forcing a second round of balloting makes it hard for candidates who rely on lower-propensity voters, a category that includes a lot of black Georgians. Yet Warnock didn't win on the basis of a surge in black voters, but rather despite the fact that the black electorate shrank.
The decisive bloc in the general election was independent voters, who broke hard for Warnock. What might cause any of them to change their minds? Is there a reason pro-Warnock or pro-Walker independents might stay away in fewer or greater numbers?