Can the GOP Force Biden's Hand on the Debt Ceiling?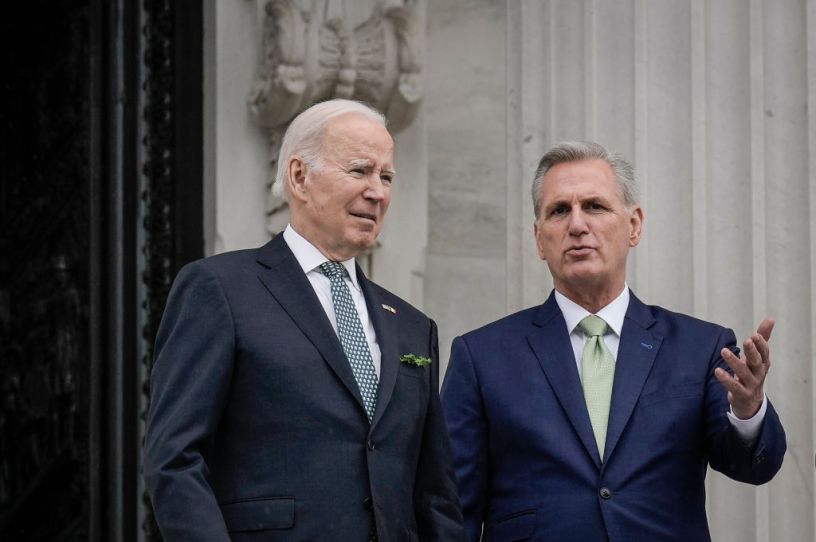 President Joe Biden and Speaker of the House Kevin McCarthy on March 17, 2023. (Photo by Drew Angerer/Getty Images)
President Joe Biden so far has refused to negotiate with Republicans on raising the debt ceiling. But GOP leaders, trying to unify an unruly conference that wants to extract as much as it can from the showdown, are now looking for ways to force Biden's hand.
Before leaving for a two-week recess, Republicans signaled they'll likely try to pass their own debt ceiling bill, without waiting to strike a deal with Democrats first.
"We need to send over what we think ought to be part of the debt limit and let the Senate respond, let the Biden administration respond," said Rep. Gary Palmer, the chairman of the House GOP Conference's policy committee.
And Rep. Kevin Hern, chair of the Republican Study Committee, told reporters last week he expects GOP leaders to draft a comprehensive list of debt ceiling demands by the end of May, probably before Republicans cobble together a budget. Yet it may not get lawmakers any closer to an agreement: Democrats suggest they'll ignore such overtures, insisting on a clean bill to raise the nation's $31.4 trillion borrowing limit.