House GOP's Afghanistan Investigation Kicks Off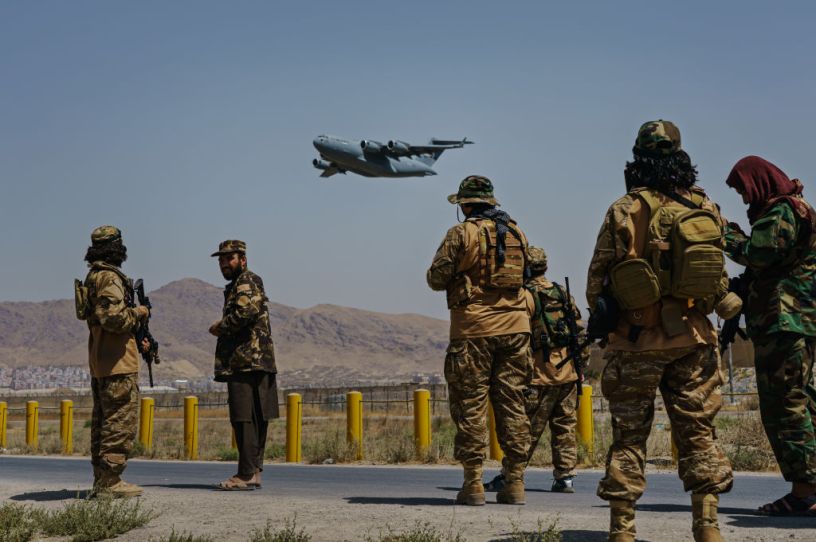 A C-17 Globemaster takes off as Taliban fighters secure the outer perimeter of the Hamid Karzai International Airport in Kabul, Afghanistan, Sunday, August 29, 2021. (MARCUS YAM / LOS ANGELES TIMES)
Republicans on the House Foreign Affairs Committee will hold their opening hearing this week on the Biden administration's 2021 withdrawal from Afghanistan. Now with a majority in the chamber—and the subpoena power that comes with it—GOP lawmakers will seek answers about how the end of the war turned into such a fiasco.
Set for Wednesday morning, the hearing will feature testimony from veterans involved in efforts to evacuate Afghan allies and others at risk since the Taliban took power. Scott Mann, a former Green Beret who served in Afghanistan, will testify. So will Aiden Gunderson, who served four years as a combat medic and deployed to Afghanistan in August 2021 to help with the evacuation.
The last-minute, chaotic operation evacuated more than 123,000 Afghans and American citizens from the country shortly before and after the fall of Kabul in summer 2021. Yet tens of thousands of interpreters and allies who were entitled to legal permanent residence in the United States were left behind.
"What happened in Afghanistan was a systemic breakdown of the federal government at every level—and a stunning failure of leadership by the Biden administration," Foreign Affairs Committee Chairman Mike McCaul said in a statement. "I want every gold and blue star family member, and every veteran out there who watch this hearing to know: I will not rest until we determine how this happened—and hold those accountable responsible."
You're out of free articles
Create an account to unlock 1 more articles