Kevin McCarthy's Biggest Test Yet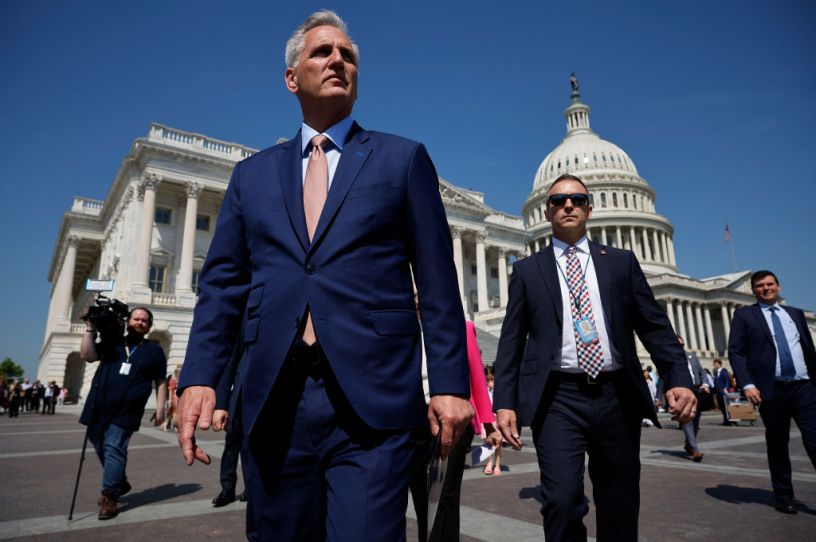 Speaker of the House Kevin McCarthy (R-CA) walks outside the U.S. Capitol on April 20, 2023. (Photo by Chip Somodevilla/Getty Images)
Good morning. Lawmakers return to Capitol Hill tonight, and they have a lot on their plates. First and foremost: House Republican leaders will try to pass their debt ceiling bill, a bid to show GOP unity and strengthen their negotiating stance ahead of a summer deadline. President Joe Biden wants a "clean" debt ceiling increase, while Republicans say they won't support lifting the $31.4 trillion limit without cuts to federal spending, among other demands.
Here are a few dynamics we're watching this week as GOP leaders try to unify their conference around their plan:
This is McCarthy's biggest test yet as House speaker.
House Speaker Kevin McCarthy pushed through 15 rounds of voting to claim the gavel in January—showing just how fractious his conference can be, and how difficult it is to corral members with only four votes to spare. He's faced numerous challenges in navigating the Republican conference since then, particularly in trying to bring a package of immigration bills to the floor. GOP leaders have had to be nimble, cutting deals with members to win their support on agenda items and negotiating behind the scenes over amendments that might have hurt a given bill's chances of passage.