Rule-Making Rebels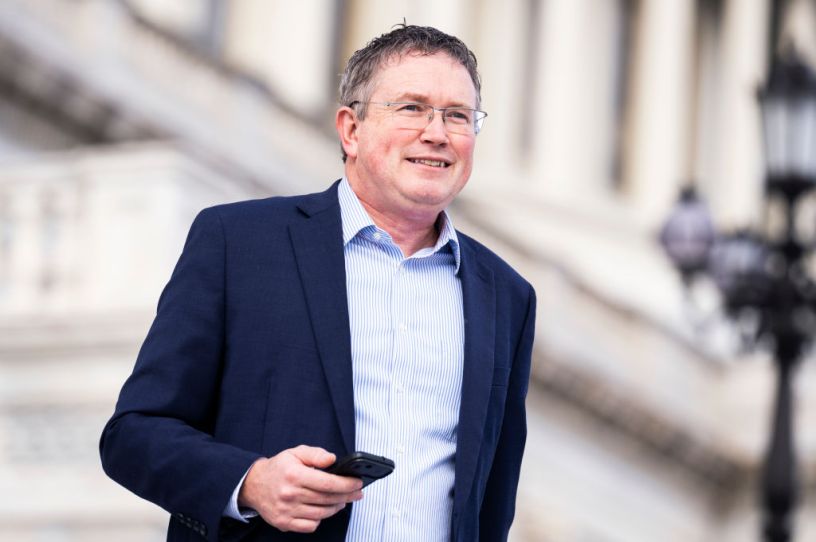 Rep. Thomas Massie (Tom Williams/CQ-Roll Call, Inc via Getty Images)
Republican Rep. Thomas Massie has more experience butting heads with his party's leaders than just about anyone in the House. Now he'll serve on the powerful Rules Committee—a job typically reserved for staunch leadership allies—because of a deal Speaker Kevin McCarthy made with his Freedom Caucus critics to secure the speakership.
Joining Massie are Reps. Chip Roy and Ralph Norman, two Freedom Caucus members who initially opposed McCarthy's speakership bid. The committee's new makeup means those three members could exercise veto power over GOP leadership's plans—and can enforce the parts of the deal with McCarthy that assured a more open legislative process. Massie backed McCarthy in the speakership race and isn't a Freedom Caucus member, but he has broadly libertarian beliefs and aligns with the group in many ways.
Often the sole "no" vote on bills with wide support, Massie is infamous for being a contrarian. He told reporters after the midterm elections that a slim majority means "I can decide whether a bill passes or not." So the Rules posting has fueled concerns he and the Freedom Caucus members may block or delay legislation they disagree with—such as a debt ceiling increase later this year.
But Massie is taking a somewhat softer tone about the role. "It's not my goal to be on the Rules Committee and to stop everything that I don't like," Massie told The Dispatch Monday. "Even though when you look at it numerically, the composition of the committee, 'Oh my gosh, three people could stop anything.' That's not my goal. For me, I don't think it would be productive or sustainable for me to do that every week."