Against Strategery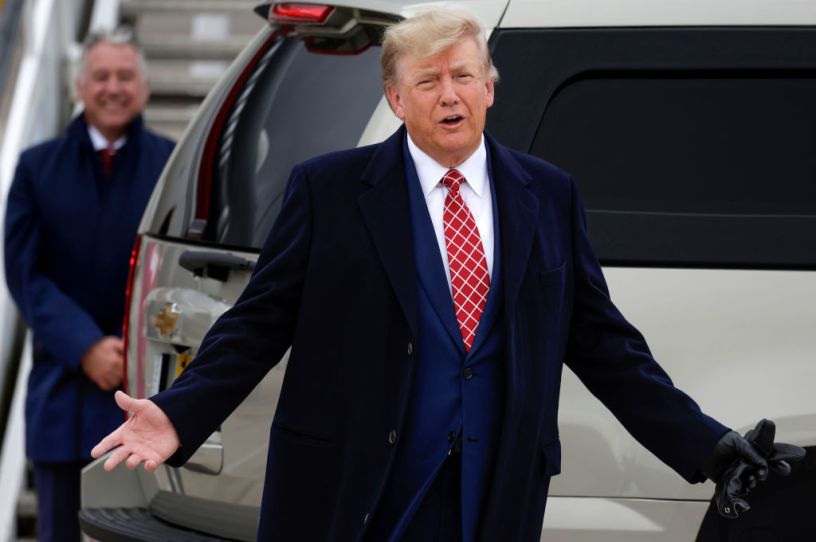 Former President Donald Trump disembarks his plane in Aberdeen, Soctland, on May 1, 2023. (Photo by Jeff J Mitchell/Getty Images)
Writing in the New York Times, Gail Collins (yes, again, for my sins) takes the bipartisan group No Labels to task, arguing that it could help to elect Donald Trump president, if Trump is the Republican nominee and No Labels runs a centrist alternative. "Repulsed by Biden vs. Trump? Tough." So reads the hectoring headline.
As I have been arguing for some time, one of the misfortunes that plagues our ailing republic is an epidemic of cleverness. It is a particularly narrow kind of cleverness—the kind that lawyers and op-ed columnists have—that has its place (thank goodness!) but that also can be mistaken for original insight or hardheaded analysis. It is a little more than glibness and a little less than expertise.
That cleverness manifests itself in different ways, one of which is an excessive emphasis on what George W. Bush never actually called strategery. (Strategery was Will Ferrell, not George W. Bush; "I can see Russia from my house!" was Tina Fey, not Sarah Palin. Gerald Ford wasn't actually clumsy. George H.W. Bush didn't actually talk like Mr. Rogers trying to be John Wayne, as Dana Carvey described the formula for his impersonation. Etc.) What Collins is engaged in is parlor strategery. And she isn't the only one: There are many people who are worried that No Labels could unintentionally help Donald Trump, including some people who are generally sympathetic to No Labels and its goals. Some people even whisper darkly that No Labels is some kind of Trumpist conspiracy.
That is, of course, preposterous. No Labels was founded in 2010 largely by the decided non-Trumpy troika of Nancy Jacobson (a Democratic fundraiser), Michael Bloomberg, and Andrew Tisch, co-chairman of the Loews Corporation. I have my doubts about No Labels' priorities and its political model, but the idea that Larry Hogan, Joe Lieberman, and Benjamin Chavis are conspiring to further the interests of Donald Trump is moonshine.