Are We Prosecuting Straw Buyers?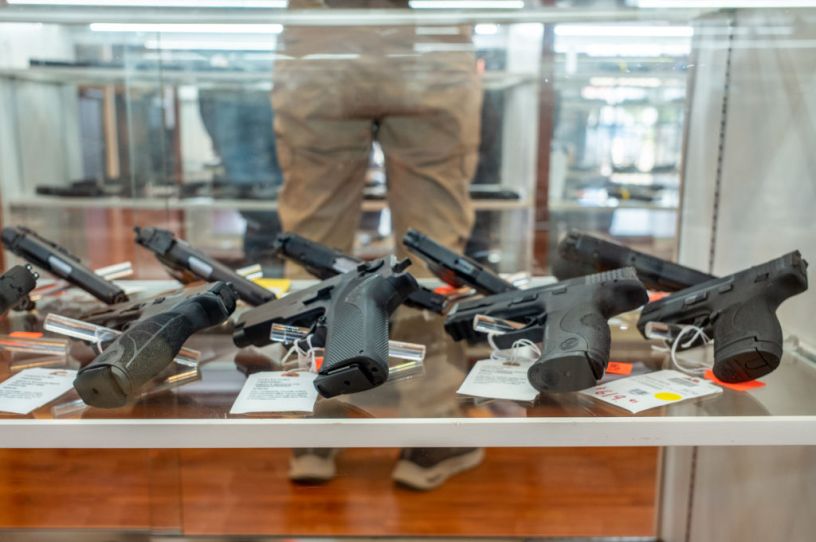 Smith & Wesson handguns on sale in a gun store in Houston. (Photo by Brandon Bell/Getty Images.)
Government records can tell you a lot of very interesting things. But one thing I have learned working in journalism is that you can learn a great deal from what records the government does not keep—or share. For example, there is some evidence—but not dispositive proof—that police officers commit crimes at a rate higher than that of the general population. While it is relatively easy to get information about the race, sex, or age breakdown of various offender populations, getting hard information about how many offenders are law-enforcement officers is effectively impossible. That's an issue that no law-enforcement agency is especially interested in talking about—the incentives are all wrong.
And the incentives get pretty interesting elsewhere, too.
Consider the perennially misgoverned state of Illinois, where Democrats led by Gov. J.B. Pritzker have made a priority of enacting new gun-control rules. One of those new rules requires firearms dealers to undergo a state licensing procedure, even though gun dealers already are subject to licensing at the federal level—a process that is very rigorous. Why impose an Illinois licensure requirement on top of the federal requirement? "To eliminate straw purchases and reduce gun trafficking," the governor's office says.
Those are worthy goals. We should make a priority of working against straw purchasers, who are a major source—in all likelihood, the most important source—of firearms for career criminals who are not able to obtain them legally. Illinois even revised its statewide straw-purchase law in 2021.
Get every newsletter and all of The Dispatch. Support quality, fact-based journalism.
Start Your Free Trial
ALREADY A PAID SUBSCRIBER? SIGN IN