Israel's Job Right Now Is to Fight, Not to Be Admired by American Journalists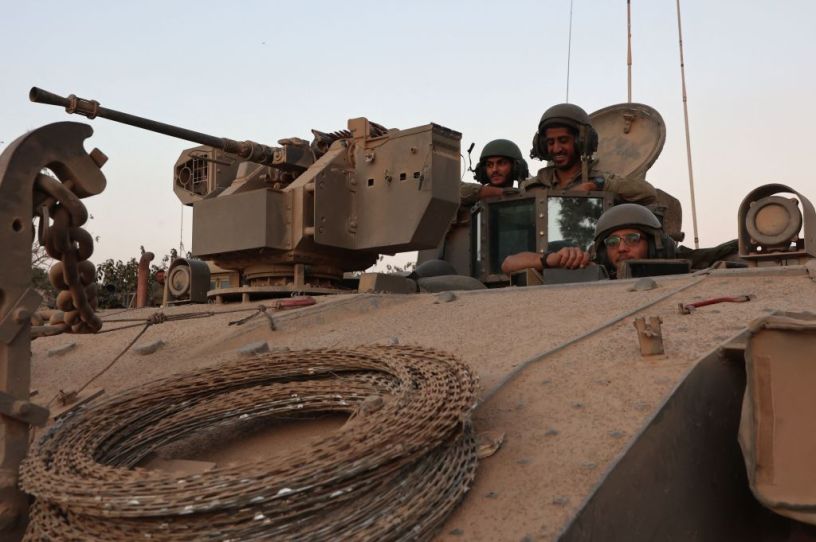 Israeli forces are deployed on the border with Gaza in southern Israel on November 5, 2023, amid the ongoing battles between Israel and Hamas. (Photo by Gil Cohen-Magen/AFP/Getty Images)
I call the language section of this newsletter "Words About Words," but at times all of politics seems to be very little more than words about words. Consider Nicholas Kristof of the New York Times on the matter of Hamas' massacre of Israeli civilians. Kristof produces a great heap of words about words, including such urgent-sounding words as hierarchy, but that pile of language mostly amounts to nothing—and where it amounts to more than nothing, it amounts to distortion and misdirection.
Kristof writes that he would have the Biden administration—and all good people—reject the notion of a "hierarchy of human life in official American policy." That governments work from a "hierarchy of human life" is, of course, a fact—and a completely unremarkable fact at that. If governments did not value the lives of their own people more than they valued the lives of others, it would be impossible to fight a war or implement an immigration policy. It would be entirely incoherent to even speak of a national interest in such a moral context.
In T.H. White's wonderful novel, The Once and Future King, Merlin gives young Arthur a taste of the world's different models of political organization by changing him into a series of animals: totalitarian ants, perch under the rule of a nihilistic tyrant ("Love is a trick played on us by the forces of evolution"), etc. Arthur finds that he likes best the libertarian geese, who make no wars and have no king. Flying over the countryside, Arthur thinks to himself how silly it is to fight over lines on a map that appear nowhere in nature. If Kristof were, in fact, writing of such a utopian vision, then there might be a conversation to be had. (Better to have it in private over drinks rather than in the very public pages of the New York Times, I would think. It is a drawing-room conversation.) But Kristof is not dreaming of an open-borders, libertarian brotherhood of man. He is, instead, writing about a real-world situation, in which a real government, composed of real people, is attempting to respond to a massacre of its people by a fanatical gang that seeks the complete and total destruction of that government, the nation it serves, and the people that nation comprises.