Judgment Day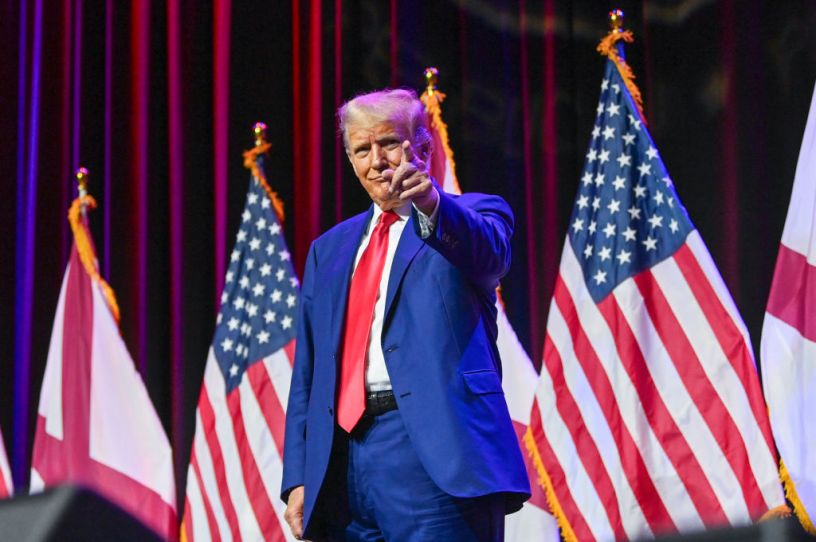 Former President Donald Trump arrives to speak during the Alabama Republican Party's 2023 summer meeting at the Renaissance Montgomery Hotel on August 4, 2023, in Montgomery, Alabama. (Photo by Julie Bennett/Getty Images)
You are not Alexander the Great. Neither am I. We do not have the option of simply cutting through the Gordian knot—we must untangle it, strand by strand, one maddening little bit at a time, an exercise that can seem pointless until you reach that satisfying moment when you can see how the thing finally will be unwound.
In the matter of Donald Trump, the serial bankrupt game-show host who was, incredibly enough, once the president of these United States, there are two tangled strands: the legal issues and the political issues. Each strand is further subdivided into many more tangled threads, which on the legal side include the January 6 matters; the more significant failed coup d'état in the form of the attempted nullification of the rightful election of Joe Biden under a host of preposterous legal pretexts; the classified documents matter; the attempt to suborn election fraud on Trump's behalf in Georgia and elsewhere; the matter of business fraud in Trump's account of his bribe to pornographic performer Stormy Daniels to keep quiet about his adultery with her; the civil matter of whether Trump has again defamed the writer E. Jean Carroll, who already has won a civil case in which she alleged that Trump sexually assaulted and defamed her.
There are fine legal distinctions to be made, of course. These do not, in general, do very much to support the position that Donald Trump should be elected president again. For example, Trump's lawyers have taken issue with the use of the word "rape" in the Carroll matter, producing this response from the judge in the case:
The finding that Ms. Carroll failed to prove that she was 'raped' within the meaning of the New York Penal Law does not mean that she failed to prove that Mr. Trump 'raped' her as many people commonly understand the word 'rape.' … Indeed, as the evidence at trial recounted below makes clear, the jury found that Mr. Trump in fact did exactly that. … The jury's finding of sexual abuse … necessarily implies that it found that Mr. Trump forcibly penetrated her vagina.
Get every newsletter and all of The Dispatch. Support quality, fact-based journalism.
Start Your Free Trial
ALREADY A PAID SUBSCRIBER? SIGN IN