Mormons and Gentiles and Jews and Gentiles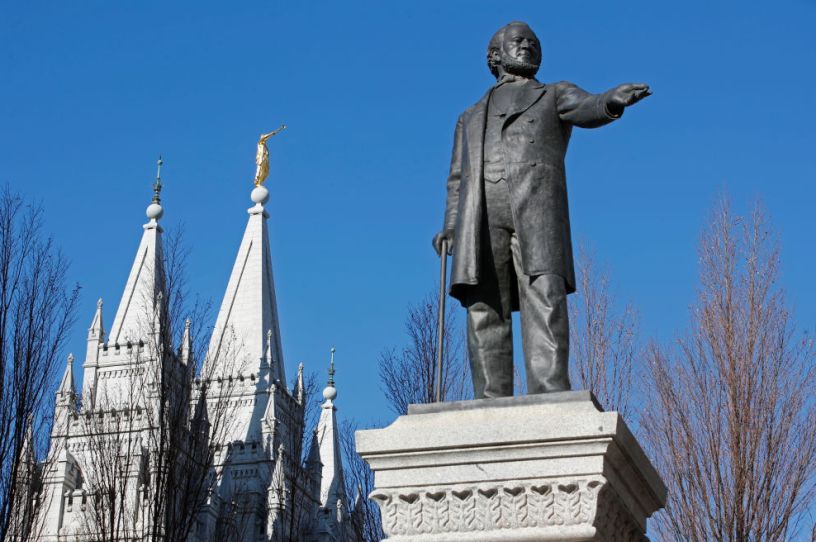 A statue of Brigham Young outside the historic Mormon Salt Lake Temple in Salt Lake City, Utah. (Photo by George Frey/Getty Images)
I've been writing about Mormons—members of the Church of Jesus Christ of Latter-day Saints have grown uncomfortable with that word—in U.S. politics for a long time, and I still haven't really answered my first question:
Is there an LDS voting bloc?
In general, LDS voters (I will not type "LSD," I will not type "LSD," I will not type "LSD") look politically a lot like evangelicals with similar racial, economic, educational, and geographic characteristics. While many of the more rigorously orthodox Christian communions do not think of the LDS church as being precisely Christian (what each religion thinks of the others can be a touchy subject—ask an Orthodox Jew if he thinks his Christian friends are monotheists) the LDS voter is, on paper, typically so much like a white evangelical (U.S. Mormons are overwhelmingly white and non-Hispanic) as to be politically identical.
Usually.
Get every newsletter and all of The Dispatch. Support quality, fact-based journalism.
Start Your Free Trial
ALREADY A PAID SUBSCRIBER? SIGN IN