The Assassins' Creed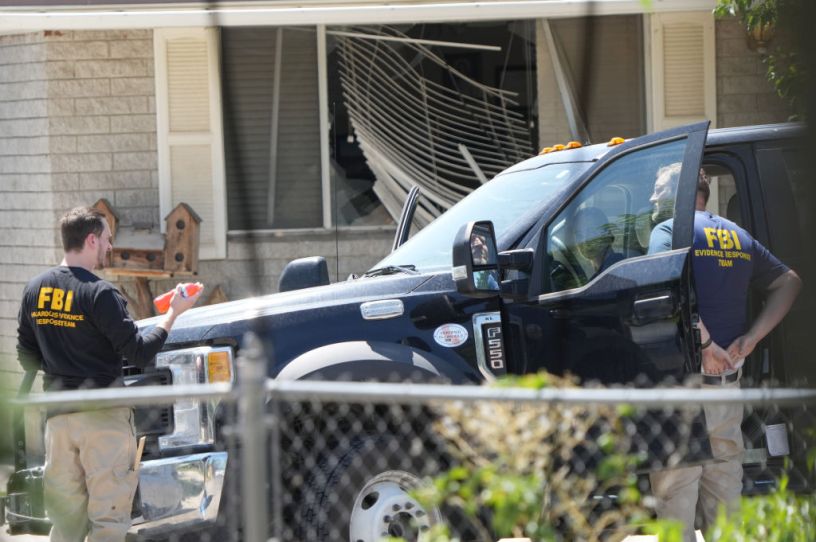 With a broken window in the background, FBI agents process the home of Craig Robertson. who was shot and killed by the FBI in a raid on his home this morning on August 9, 2023, in Provo, Utah. (Photo by George Frey/Getty Images)
Craig Deleeuw Robertson's secret life wasn't much of a secret.
Friends described the Utah man—shot to death in a confrontation with FBI agents who came to his house to arrest him for threatening to assassinate the president—as "a big teddy bear," a regular churchgoer, all the usual stuff. People who knew him expressed "complete and total shock" at the violent final moments of his life.
Utah is a state with a lot of sand in it, and Robertson's neighbors had their heads sunk well into it.
Robertson was already well known to both federal and local law-enforcement before his death in the early morning hours of August 9. Armed with an AR-style rifle, he had been involved in a "standoff"—as police put it—with Provo law enforcement in 2018 after threatening utility workers with a handgun. The workers, employed by Google Fiber, had knocked on his door to let him know they were going to work on a pole abutting his backyard; when he didn't answer, they went to work. They had to finish the job under police protection. When Provo police arrived at his house, Robertson had upgraded from the handgun to a rifle. No charges were filed—Robertson was, in the view of the police, just another American "exercising his Second Amendment rights, albeit a little recklessly."