The Burial of the Dead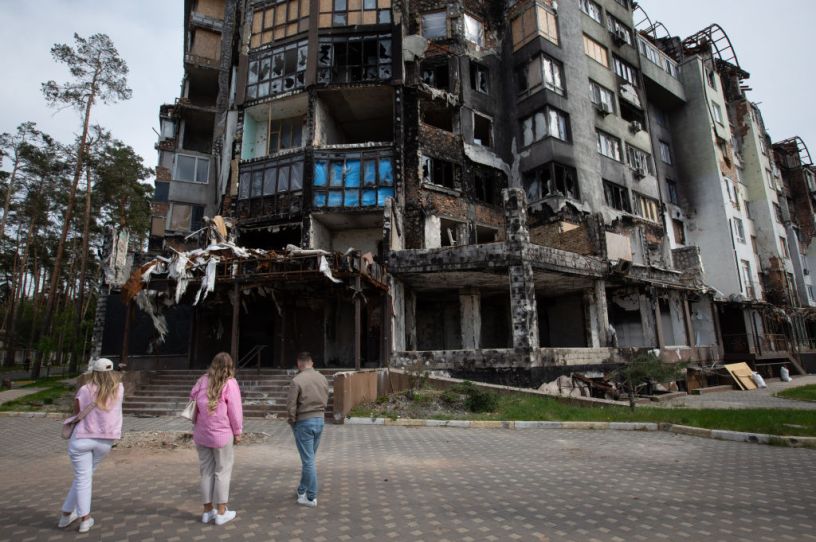 People look at a heavily damaged residential building after Russian attacks on the town of Irpin, Ukraine, on May 21, 2023. (Photo by Oleksii Chumachenko/Anadolu Agency/Getty Images)
KYIV—This doesn't feel like a city at war, or a city under martial law. Not at first, anyway.
Kyiv is a city with packed restaurants—reservations are hard to come by—packed bars, packed cafes, busy streets. Our hotel is bustling, the traffic is substantial, and, overall, Kyiv has the look and feel of an ordinary European capital.
In the hotel lobby, we are met by the security guys, two serious young British veterans who give us our body armor, our helmets, and our emergency medical kits, with the advice that if we don't know how to use deep-wound dressing, it's probably best just to leave it in the package until somebody competent comes along to do it for us. Later in the day, I'll meet a guy who helped amputate his own arm with a field knife after the limb was mostly blown off his body, hanging on by only a few tendons. We take the protective gear and stow it in our rooms, where it stays, while we go off to have our meetings and our conversations and our meals and to do our sightseeing. It can get a little strange: Go up to a high enough floor in the hotel and you'll encounter GPS jamming, and it is difficult to call an Uber when the app thinks you are somewhere off the coast of Africa. Better to do it from the lobby.
The missile attacks come that night.
You're out of free articles
Create an account to unlock 1 more articles