The No-Values Party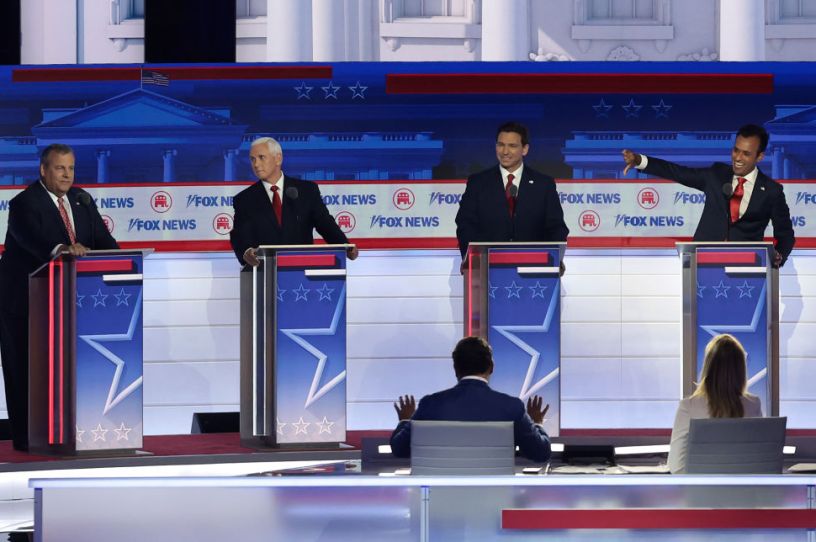 Republican presidential candidates Chris Christie, Mike Pence, Ron DeSantis, and Vivek Ramaswamy participate in the first debate of the GOP primary season on August 23, 2023 in Milwaukee, Wisconsin. (Photo by Win McNamee/Getty Images)
If the Republicans on the Milwaukee debate stage seemed incoherent to you, it is because the Republicans on the Milwaukee debate stage were incoherent. Incoherence is one of the many unhappy side effects a party experiences when it abandons its values.
Take national security. For more than a half a century, the Republicans were the party associated with a more robust—and more serious—program for national security. Now, they are and they aren't, and they mostly aren't. Ron DeSantis, the Florida governor and miraculously disappearing Trump challenger, has complained that the Biden administration is too eager to help Ukraine and our European allies repel the Russian invasion that launched the most significant war in Europe since World War II. We have critical defense interests, DeSantis told Tucker Carlson in March, and "becoming further entangled in a territorial dispute between Ukraine and Russia is not one of them." He protests that the U.S. government is offering Kyiv a "blank check."
DeSantis has reconnected with an ancient stream of Republican isolationism that flares up from time to time, as in Bob Dole's infamous denunciation of "Democrat wars" in his 1976 vice presidential debate with Walter Mondale. The weird thing is, DeSantis also vowed to invade Mexico on his first day—literally: "I will do it on Day 1," he pledged at the debate in response to a question about the drug cartels operating in the country. A few bucks to push back Moscow is a bridge too far, but an illegal and unprovoked invasion of our peaceable neighbor to the south is, somehow, obviously the right thing to do.
Get every newsletter and all of The Dispatch. Support quality, fact-based journalism.
Start Your Free Trial
ALREADY A PAID SUBSCRIBER? SIGN IN