Is It Time for a Stimulus Package?
Another crisis, another opportunity to spend.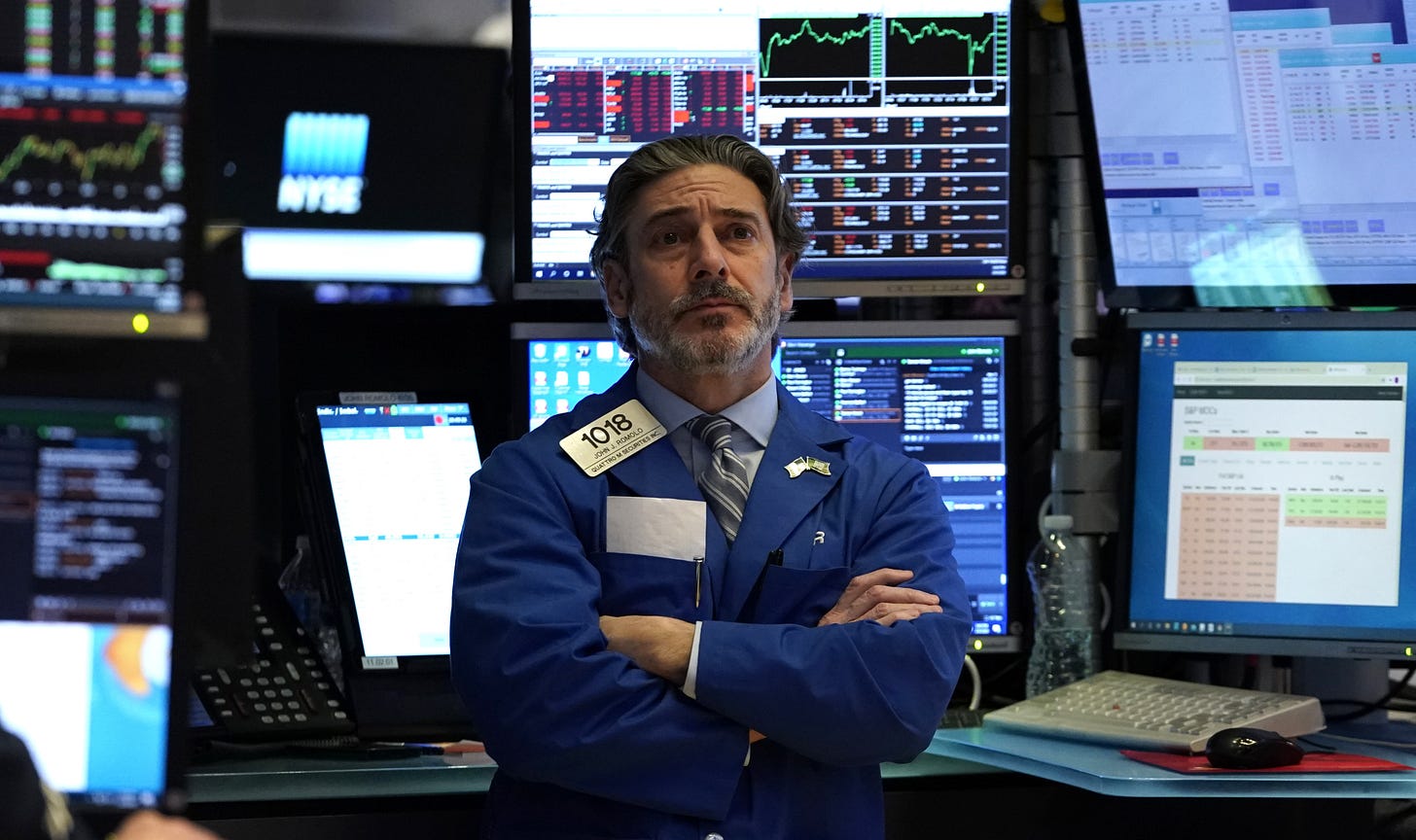 Speaking to reporters at a coronavirus task force briefing on Monday night, President Trump said his administration plans to discuss with congressional leaders measures the federal government can take to mitigate the economic fallout of the COVID-19 outbreak. Some items the White House will bring to the table: A payroll tax cut, cash assistance to hourly wage earners, loans for small businesses struggling with liquidity, and relief for the airline, hotel, and cruise industries. Trump reiterated that he didn't want American workers and businesses to "get penalized for something that's not their fault."
The president's comments came after the markets closed on another day of financial turmoil. The Dow Jones Industrial Average had its worst day since the 2008 financial crisis on Monday, dropping 7.8 percent. The 10-year U.S. Treasury yield briefly hit an all-time low of 0.318 percent in overnight trading. Oil prices fell more than 24 percent, with some markers registering their biggest intraday losses since 1991.
But perhaps of even greater economic significance are the continued institutional closures and cancellations sweeping across the country: Small businesses reeling after expected revenues vanished, parents scrambling to find childcare after schools were shuttered, service or gig economy workers forced to choose between safeguarding their health and paying the bills.
And that's where fiscal stimulus efforts come in.
When an economy lags, governments often put together stimulus packages—typically containing tax cuts, federal spending, and other various incentives—in an effort to emulate consumer demand and jumpstart commercial activity. The United States passed two such packages in 2008 and 2009 in attempts to stave off the worst of those financial crises: The $152 billion Economic Stimulus Act was signed into law by President George W. Bush in February 2008; President Barack Obama approved the $787 billion American Recovery and Reinvestment Act (the Recovery Act) a year later in February 2009.
President Trump's comments last night—along with a series of proposals put forth by Speaker Pelosi and Senate Minority Leader Chuck Schumer—indicate some sort of package could be on the horizon, should Senate Republicans decide to play ball.
But what would such a stimulus look like? While today's economic concerns certainly exhibit some similarities to just over a decade ago—remember the "worst day since the 2008 financial crisis" mentioned above?—the root causes are entirely different. In 2009, lawmakers were tasked with difficult ethical questions, determining which economic actors—homeowners who may have lied about their incomes or otherwise knowingly spent beyond their means, for example, or big banks taking major risks with credit—deserved to be bailed out by their fellow taxpayers, and which ones didn't.
"Well, in this case you don't have that same problem of people having done wrong things," Tony Fratto—partner at Hamilton Place Strategies and President Bush's deputy press secretary at the time of the Economic Stimulus Act—told The Dispatch in an interview. The coronavirus represents an "exogenous shock" to the system.
But that doesn't make targeted economic relief any simpler. "If you're going to pinpoint assistance because you want to solve a problem," Fratto—a Treasury Department official prior to his time at the White House—said, "but then you try to define that problem by who deserves to get the assistance, then you just run into all kinds of problems of drawing lines in places."
Fratto presented vendors and caterers slated to work at the recently canceled South by Southwest festival as an example. "South by Southwest, for those vendors and caterers—that's their Christmas. You've canceled Christmas for them," he said. "Three weeks of full-on, every venue in the city is being used for events. And some are used for multiple events, multiple times a day." (South by Southwest itself laid off about one-third of its 175-person year-round workforce as a result of the cancellation.)
"But how do you pick out—I mean—how do you help them?" Fratto asked. "Are you going to help all the restaurants? … Does that extend to people doing food delivery? What about the entertainment venues that people aren't going to?"
"So these decisions become really, really hard," Fratto said.
Michael Strain, director of economic policy studies at the American Enterprise Institute, advocated for a deliberate approach. "I certainly don't think we should rule out the idea of targeting specific industries for support," he said in an interview. "I don't think we know how big of a hit the airlines are going to take. I think it's clear they're going to take one. I don't think we know how big of a hit hotels are going to take. I think it's clear they're going to take one … I think we just need to wait and see."
Governments can sidestep some of these difficult choices by finding the most politically sympathetic of the afflicted classes and plowing taxpayer money in their direction. Think the Trump administration's near $30 billion in bailouts for farmers hurt by the president's trade war with China while manufacturers continue to get crushed.
But even once beneficiaries are settled upon, the details of a more narrow response would take months to hammer out and administer. "You have to design the program, and you have to do case-by-case basis as to who should get the help and not," Fratto said. "So that takes a lot of time."
Strain didn't mind a slight delay in federal disbursements. "I wouldn't start spending money tomorrow," he said, advocating for lawmakers to institute a set of thresholds that would trigger economic relief. "Let's pass a package, and have the package say that if the unemployment rate goes to a certain level, or GDP growth goes to a certain level, or whatever, then a bunch of things happen."
Fratto disagreed. "I don't want to wait for the whites of their eyes," he said, referencing William Prescott's apocryphal order at the Battle of Bunker Hill.
And due to the unpredictability of the coronavirus' spread, agility and flexibility may prove key to the efficacy of any stimulus package. "What I would want to say is, let's try to avoid having to draw those kinds of really sharp lines," Fratto said, adding that some broader relief to municipally-owned airports and convention centers could prove beneficial. "You want to try to get money directly to people."
The Federal Reserve's decision to cut interest rates yet again last week will have an impact on what a stimulus package could look like. Lawmakers "need to be thinking about the balance of risks," Strain said. "And with interest rates so low, that makes the risk of overreacting and spending too much on stimulus or public health measures less than the risk of underreacting and not spending enough."
A payroll tax cut—as Trump mentioned last night—could be signed into law relatively quickly, as it was a decade ago by President Obama, and result in more money in Americans' pockets each month. But more sweeping gestures like that pose equity challenges as well. Blue-collar and service workers are disproportionately affected by the coronavirus—cancellations and reduced demand can result in layoffs, abbreviated hours, and lost commissions or tips. Most white-collar workers' livelihoods, conversely, have not been dramatically impacted by COVID-19—technology allows many salaried employees to work from home with minimal disruption. But both groups would reap a commensurate reward from a reduction in the payroll tax on a percentage basis.
The payroll tax isn't the only tool in the stimulus toolbox. "We need to be thinking very seriously about what we should be doing in states and localities that are experiencing outbreaks," Strain argued. "I think it would be reasonable to target financial relief to low-income households ... to get people to not have to choose between paying the rent and not spreading the disease."
Trump could also—through the Small Business Administration—ramp up lending to small and midsized companies facing a liquidity crunch after decreased consumer demand. "If I were recommending what to do," Fratto said, it'd be "on things like small business in some kind of affected areas. Just try to cluster that in hospitality, entertainment, travel—but really I want to help small businesses."
And larger businesses, like airlines? Fratto thinks they should be ready for these kind of disruptions. "Of all the kinds of businesses that ought to be expectant and prepared for global shock that could ground flights, it's the airline industry. They need to be prepared and hedged and insured for these things. And the idea that every time something big happens governments should be there to bail them out, that's a bad way of doing business," he said. "I'm not a big moral hazard guy, but that clearly is a moral hazard problem there."
Trump administration officials will head to the Hill today to make their case for such measures to Republicans wary of additional spending after passing an $8.3 billion coronavirus package last week. Sen. John Cornyn told NBC News a stimulus seemed "premature" and Sen. Chuck Grassley said, "I don't think that's warranted." Not a single Republican House member voted for the President Obama's Recovery Act back in 2009, and only three GOP senators did.
Grassley is, however, "exploring the possibility of targeted tax relief measures that could provide a timely and effective response to the coronavirus," according to a spokesman. And a GOP source told The Dispatch yesterday they'd "be surprised if there wasn't movement toward some sort of stimulus maybe in concert with a second infusion of assistance for coronavirus response. Expect the shape and scope of a potential package to develop over the course of the coming weeks."
"The administration is going to have ideas on what to do here, they're going to do their work and try to come up with a package," Fratto said. But they're "going to have to go negotiate with the Speaker of the House, too. I mean, don't think politics isn't going to be a part of this. Don't think Democrats aren't going to have to have something for them to say that they got out of this."
"A Democratic Congress is going to be in favor of doing more. I still think a Republican Congress with a Democratic president would be in favor of doing less. I don't think that's changed fundamentally. I still think if there was a Democratic president, [Republicans] would say, 'This money is being wasted. It's the wrong programs. You're trying to pick winners and losers. You're targeting.' I still think the politics is more important than the economics on this for Congress."
Per CNN, Speaker Pelosi plans to introduce a "host of bills aimed at bolstering the economy"—including paid sick leave and additional unemployment insurance—as early as this week.
Photograph by Timothy A. Clary/AFP via Getty Images.