A Day of Dashed Hopes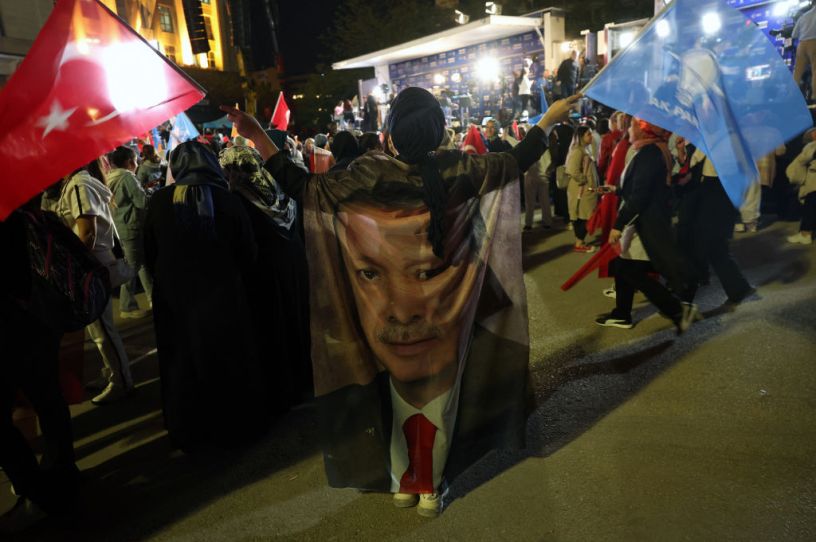 Supporters of Turkish President Recep Tayyip Erdogan wave flags in Ankara, Turkey on May 15, 2023. (Photo by ADEM ALTAN/AFP via Getty Images)
ISTANBUL—A weekend that began with cautious optimism soured into quiet disappointment for opponents of Turkish President Recep Tayyip Erdoğan late Sunday night. Defying polls predicting his defeat in the first round of Turkey's high-stakes presidential election, the incumbent took 49.5 percent of the vote to opposition leader Kemal Kılıçdaroğlu's 45 percent, triggering a May 28 runoff.
With that, Erdoğan survived the biggest threat to his authority yet. But his rule remains as fragile as ever.
To Turkey's deeply divided electorate, the runoff will settle the Turkish Republic's decades-in-the-making identity crisis as it rounds its 100th anniversary this fall. On the ballot: religious conservatism versus secularism, poverty versus prosperity, and autocracy versus democracy. Both sides claim to have the edge going into the second round of voting.
Speaking from the balcony of the Justice and Development Party (AKP) headquarters in Turkey's capital of Ankara, the usual venue of his victory speeches, Erdoğan stopped short of declaring himself the race's winner. "Although the exact results are not yet clear, we are in the lead by a long way," he said. "Turkey once again proved it is among the world's leading democracies thanks to its adherence to the supremacy of national will." Below, crowds of devotees waved Turkish flags overlaid with their leader's face and danced in the streets.
Get every newsletter and all of The Dispatch. Support quality, fact-based journalism.
Get Started
ALREADY HAVE AN ACCOUNT? SIGN IN