A View From the West Bank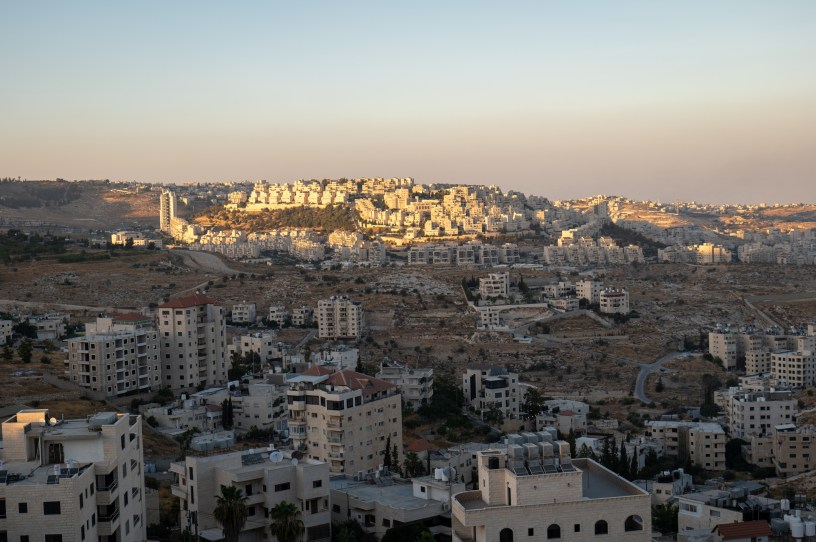 Bethlehem, West Bank, July 22, 2022. (via Getty Images)
It wasn't very long ago that there wasn't really anybody like Shmuel Junger. He is, to use a sometimes loaded word, a settler, living in a West Bank community with his children and his wife, whose family were among the founders of the first Jewish settlement in the area. (Because this is Israel we are talking about, not only is every inch of land contested, but so is every syllable: Junger describes his community as being in Samaria, a term that many Palestinian activists reject.) His background is a cosmopolitan one, including stints teaching in Hong Kong and working in the United States. His academic studies have included law, Jewish history, and Talmud, and he is a veteran of the Israeli Defense Forces. He has a job that surely would have perplexed both Jews and conservative Christians only a few years ago: He is the Israel director of Christian Friends of Israeli Communities, an organization that connects Christians abroad, mostly in the United States, with "communities in the heartland of Biblical Israel." CFOIC interests are, of course, largely religious and partly informed by the end-times prophetic tradition, but their work also is, as the organization says, an act of "reparation for antisemitic teachings and acts" throughout Christian history.
We spoke by telephone Monday evening. His remarks are edited for brevity and clarity.
What's the view from the West Bank?
Things are not easy. It was a big surprise for everybody. We are used to attacks, but this time it was full-on in a way we never saw before. The viciousness you can see from the videos, the total surprise, everything all at once—it is going to take some time to realize what we are doing. But we are used to being surprised. It happened exactly 50 years ago in the Yom Kippur War. This is a replay of that movie.
You're out of free articles
Create an account to unlock 1 more articles