America Cannot Afford to Ignore the Western Balkans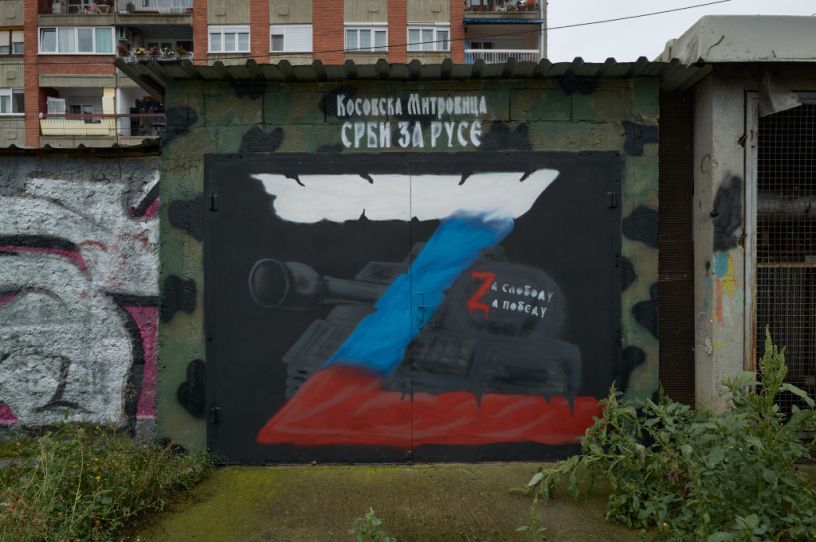 A mural with the letter Z, the symbol of Russias war in Ukraine on a wall near a university where Kosovo Serbs live. (Photo by Pierre Crom/Getty Images.)
America's engagement in the former Yugoslavia in the 1990s remains one of its most consequential interventions, both in terms of cementing America's role as the only superpower and in shaping the Western Balkans into a region of free and independent states. But 30 years later, the situation in the region is very different. The Western Balkans have become a renewed battleground in a new Cold War.
The events of the 1990s set out a vision wherein countries of the Western Balkans would become members of NATO and the European Union and solidify their place in the free world. But in the wake of 9/11, the United States shifted away from a human-rights–based foreign policy, designed to create reliable partners, to the war on terror. Instead of focusing on the reconstruction of the countries ravaged by Serbia the United States shifted its focus toward the twin wars in Iraq and Afghanistan.
U.S. foreign policy experts took the view that the European Union would take over—which it willingly did. However, the EU simply lacked the capacity and resources to support the whole region: In the early 2000s the European Union was already struggling to handle its own enlargement with the accession of 10 new member states, predominantly from the post-communist East.
As a result, for the last 20 years the Western Balkans has lacked geopolitical godparents in the West—stunting the development of the region and slowing the entry of those nations into the Euro-Atlantic world. The West's adversaries are slowly filling this superpower-sized hole.
Get every newsletter and all of The Dispatch. Support quality, fact-based journalism.
Get Started
ALREADY HAVE AN ACCOUNT? SIGN IN