Beware the Hype Over Two New Alzheimer's Drugs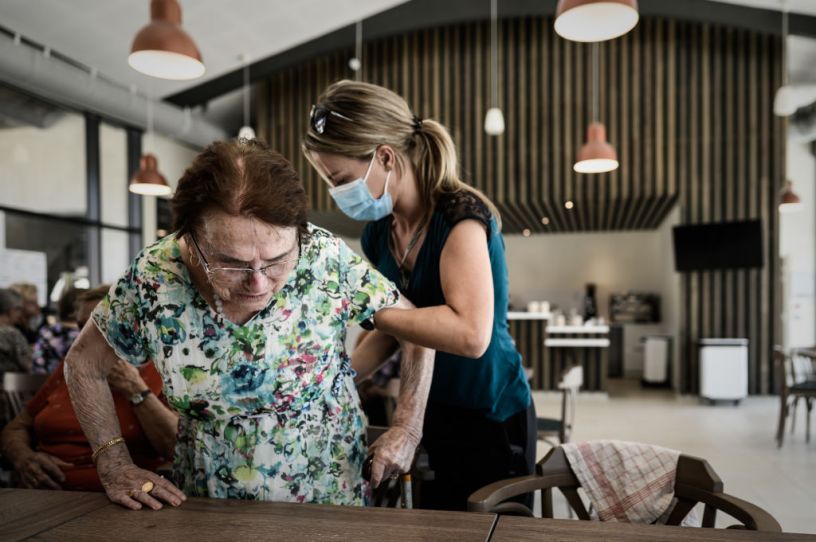 A volunteer helps an Alzheimer's patient. (Photo by Phillipe Lopez/AFP/Getty Images.)
Two new Alzheimer's drugs are being touted as having potentially significant effects on cognitive decline, but a careful review of the clinical trial results suggests that their efficacy is actually questionable. If Medicare opts to cover them, taxpayers will be on the hook for expensive drugs that might not provide concordant benefits.
Both drugs—Eisai's lecanemab (branded as Leqembi) and Eli Lilly's donanemab— are the product of the scientific hypothesis that clearing a protein known as amyloid beta from the brain can slow or halt cognitive decline. As expected, the two drugs are extremely effective at reducing the amyloid burden within the brain. Unlike previous drugs, which reduced the amyloid burden without showing cognitive benefit, Eisai and Eli Lilly claim that their drugs also delay cognitive decline. What they don't say is that the ability to slow cognitive decline by a small but significant margin may not translate into a noticeable day-to-day difference for patients.
Questionable benefits, sizable risks.
Take lecanemab's trial results. Researchers used an assessment called the Clinical Dementia Rating-Sum of Boxes (CDR-SB) to measure cognitive functioning. The assessment rates patients on a scale of 0-18, with higher scores indicating more severe impairment. At the end of the trial's 18-month window, the average CDR-SB score increased for both the trial and control group, but the increase for those who took lecanemab averaged 1.21 points, as compared with 1.66 for the placebo group. The marketed 27 percent decrease in cognitive decline measured between these two scores somehow seems paltry compared to a 0.45-unit change on an 18-point scale.