Biden Withholds Weapons That Could Help Ukraine Win the War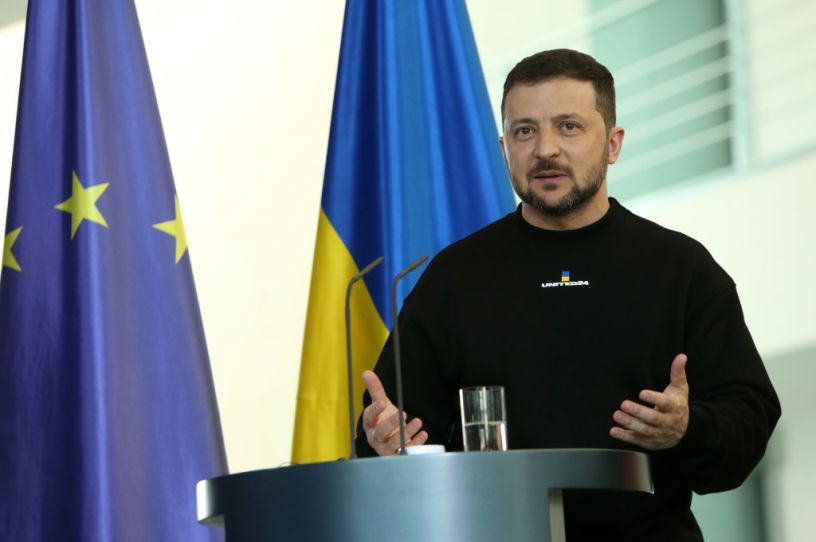 Ukrainian President Volodymyr Zelensky at the German federal Chancellery on May 14, 2023, in Berlin. (Photo by Adam Berry/Getty Images)
Avril Haines, the director of national intelligence, testified before Congress in early May that the toll of Vladimir Putin's disastrous and unprovoked war of aggression made it unlikely that Russia could sustain further offensive operations in Ukraine over the next year. Just days later, the May 9 Victory Day Parade in Moscow seemingly backed up her claims: Today's Red Army could spare only one World War II-era T-34 tank at the head of a column of armored personnel carriers to mark the occasion. The Russian military that existed before the war has been obliterated. This is one of the biggest bargains imaginable given the relatively low cost of inflicting devastating losses on one of America's two near peer rivals.
American (and NATO) assistance, and the losses suffered by the invading Russian forces, have not, however, been sufficient to help Ukraine win the war. The fighting continues. The Ukrainians have made clear that they need additional support, in particular additional air defense assets (which have been depleted by repeated Russian missile and drone attacks), long-range missiles, and high-performance fighter aircraft F-16s to accompany the ammunition for HIMARS and other artillery pieces. The Biden administration, wary of provoking Russia too much, has withheld some of these.
That said, the assistance has undoubtedly helped put Ukraine in a better position to pursue offensive operations against Russian forces on Ukrainian territory. There is now, however, another issue. The Ukrainians have expressed persistent concerns about ammunition shortages, and U.S. defense officials, in background comments to the press, have worried about depleting U.S. war reserve stocks. There is a way to address that problem: by providing Ukraine with the Dual Purpose Improved Conventional Munition (DPICMs) that it has requested. Ukraine has been waiting months for a response, but the administration has been silent.
The DPICM is a "cluster munition," an artillery shell that carries 88 bomblets or "submunitions" that it delivers over a fixed area. Military experts regard it as perhaps five to 15 times more effective than the high explosive rounds that the U.S. and other allies have been supplying to Ukrainian forces. The DPICM allows "a smaller force to engage and degrade a larger enemy force," and would be particularly useful in dealing with Russia's numerical artillery advantage, as well as going after moving armored columns and entrenched defensive positions. Moreover, the U.S. holds some 3 million rounds of this ammunition in its inventory.
Get every newsletter and all of The Dispatch. Support quality, fact-based journalism.
Get Started
ALREADY HAVE AN ACCOUNT? SIGN IN