Bureaucratic Wrangling Is No Substitute for Lawmaking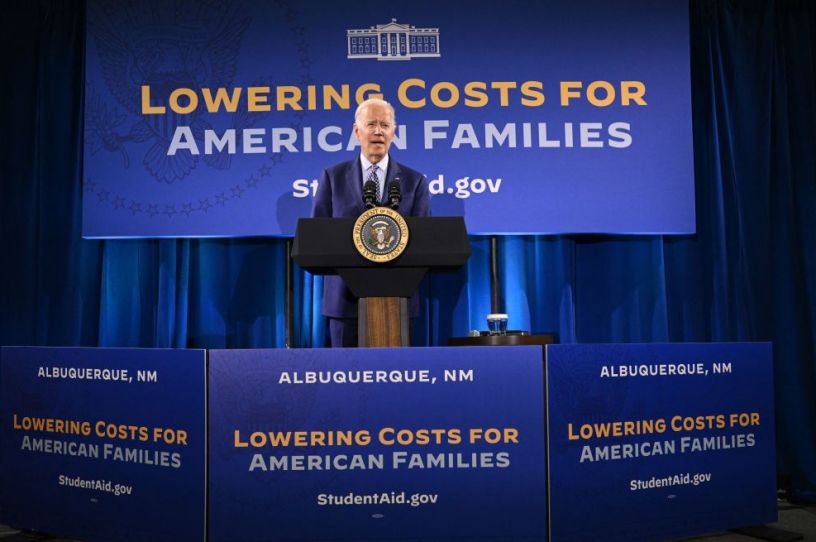 President Joe Biden speaks about student debt relief at Central New Mexico Community College Student Resource Center in Albuquerque, New Mexico, on November 3, 2022. (Photo by SAUL LOEB/AFP via Getty Images)
The Supreme Court's recent affirmative action and student loan decisions have critics fuming, claiming the justices made themselves into a kind of super-legislature. Who are these robed figures to tell universities how to establish admissions criteria, or to deny struggling debtors some financial relief? But critics ignore the histories of both policies, which largely emerged through bureaucratic channels, without robust political debate or decisive majorities. 
Affirmative action has its roots in the late 1960s, when President Lyndon Johnson wanted to further aid black Americans. Given the fiscal burdens imposed by earlier spending programs and the Vietnam War, his administration was looking for cheap alternatives. It eventually settled on a strategy to lean on businesses to hire more black workers and steer government contracts to minority firms, notwithstanding that congressional champions of the Civil Rights Act of 1964 had insisted that the law's guarantees of equality would never result in preferential race-based hiring. Affirmative action thus got its start without any push from activists or legislators. President Richard Nixon later found affirmative action to be a convenient weapon against (white-dominated) construction unions. Though Nixon later changed his mind about affirmative action, by then the policy had momentum.
When racial preferences spread to school admission policies, judges upheld them despite consistent public opposition. In the 1978 case Regents of the University of California v. Bakke, a splintered Supreme Court provided what became the one legally accepted rationale for affirmative action: that having a diverse student body would enhance the campus-wide educational experience. It was never clear why a student's skin color per se was such an important factor in fostering diversity, but the legal consensus held. In the subsequent 2003 case Grutter v. Bollinger, Justice Sandra Day O'Connor affirmed the diversity rationale but also included a proviso that could hardly seem less legal: "We expect that 25 years from now the use of racial preferences will no longer be necessary to further the interest approved today," she wrote for the majority opinion. O'Connor was the last justice to have also been a legislator (serving two years in the Arizona Senate). In Grutter, she organized a coalition of justices around a rough-and-ready compromise more appropriate to the legislative arena.
Five years ahead of schedule, a majority of Republican-appointed justices decided the Grutter compromise was built on self-deception and insisted that purely race-based affirmative action must end. President Joe Biden strongly objected. "We cannot let this decision be the last word," he said, proposing instead that colleges should "take into account the adversity a student has overcome" as they select which students to admit.