There Oughta Be a Law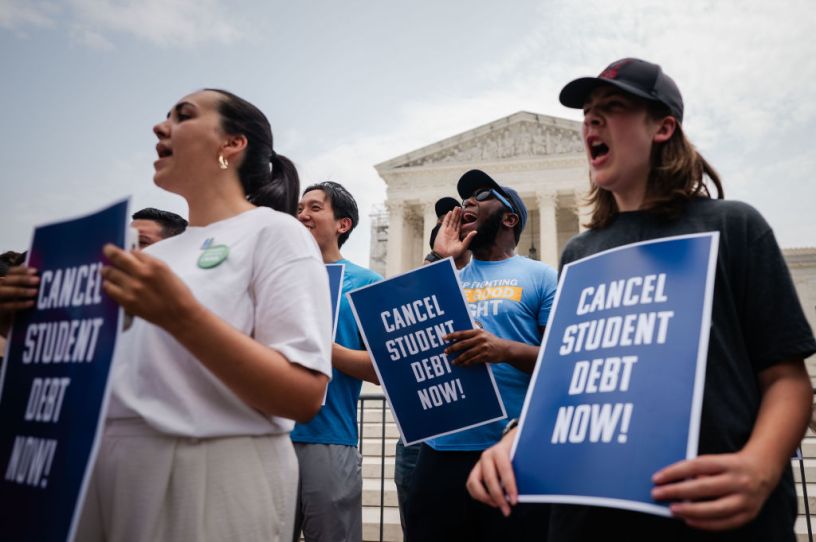 Student Loan Forgiveness Advocates rally outside the Supreme Court after President Biden's student debt relief program was struck down on Friday, June 30, 2023. (Kent Nishimura / Los Angeles Times via Getty Images)
It's natural when one feels disgust for a political movement to develop some sympathy for its enemies.
Natural but wrong, I should add. All political movements deserve a healthy amount of fear and loathing, however obnoxious their opponents might be.
But there's a reason many anti-Trump conservatives have evinced a Strange New Respect for Democrats and their policies since 2016. Given a choice between being governed by a would-be American Putin or a neoliberal geezer, a patriotic right-winger might find himself rationalizing his preference by musing that, truth be told, not all of the libs' ideas are terrible.
I spend so much time whining about Trump that one of my own Dispatch colleagues seemed surprised recently to learn that I don't share the progressive view of whether transgender children should be allowed to alter their physiology with parental approval.
Get every newsletter and all of The Dispatch. Support quality, fact-based journalism.
Start Your Free Trial
ALREADY A PAID SUBSCRIBER? SIGN IN