Can Pete Snyder Ride the Trump Wave?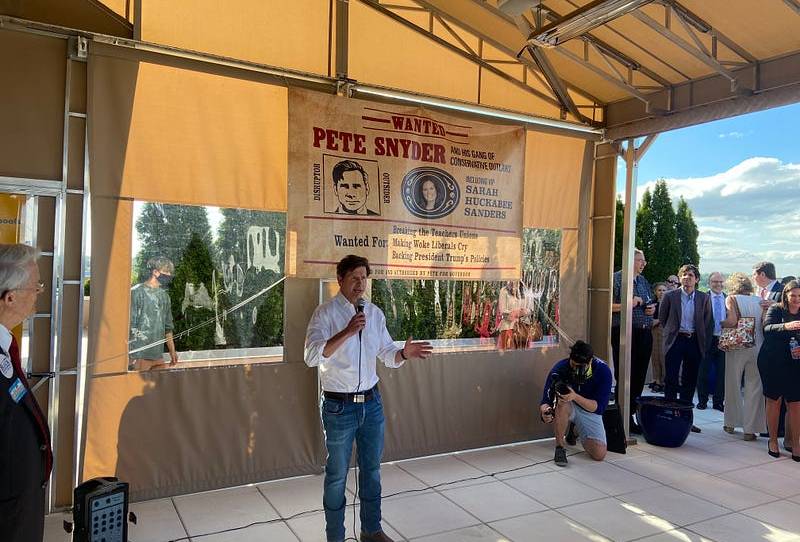 ARLINGTON, Virginia—Anyone who wondered what Virginia Republican gubernatorial candidate Pete Snyder's closing message would be in the final days before the state convention on Saturday needed to look no further than the banner displayed at his campaign event Wednesday at Smokecraft BBQ.
It proclaimed that Snyder and his "gang of conservative outlaws" are wanted for "breaking the teachers unions," "making woke liberals cry," and "backing President Trump's policies." 
That wasn't the only page taken from the MAGA playbook Wednesday evening. "Friends, are you excited about meeting Sarah Huckabee Sanders or what?" conservative commentator Martha Boneta yelled at the crowd. "Friends, how many of you wish that Donald J. Trump was in the White House right now?" Hoots and hollers arose from the attendees, who spent Wednesday evening gearing up for an exciting weekend ahead.
The Virginia Republican Party's roughly 53,000 registered delegates will cast their votes on Saturday for their preferred gubernatorial candidates in an unassembled convention that will take place in 39 locations across the commonwealth. The state party's decision to run a convention is a departure from 2017, when Republican voters nominated former GOP gubernatorial candidate Ed Gillespie in a statewide primary.