Can the CIA Fix Its Workplace Sexual Violence Problem?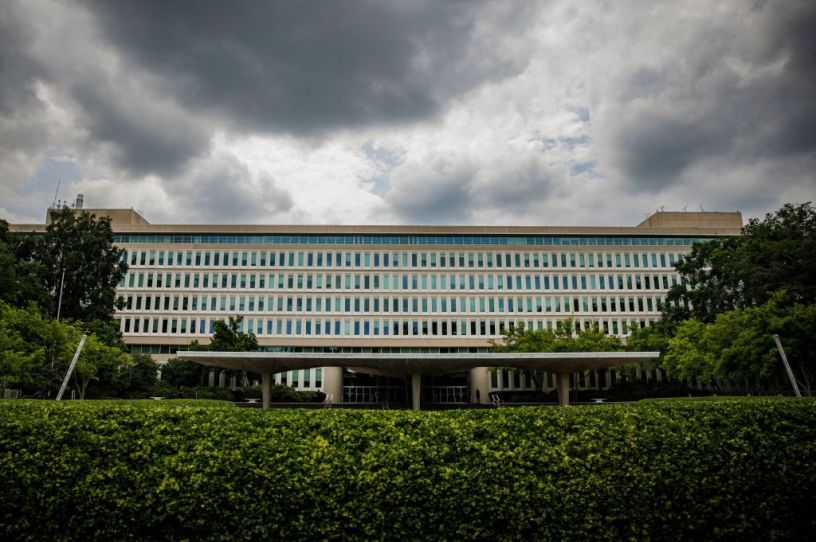 CIA headquarters. (Photo by Samuel Corum/AFP/Getty Images)
How much of a problem does the CIA have handling claims of sex crimes within the agency? Enough of one to warrant attention from Congress. Since January, the House Intelligence Committee has interviewed several dozen women who've made allegations as part of an oversight investigation, and the Senate Intelligence Committee has demanded a parallel investigation by the CIA's inspector general. And last month, the committees' bipartisan leaders sent an urgent letter to CIA Director William Burns expressing concern about the agency's mishandling of such claims.
The agency's initial response, in bureaucrat-speak, that "there is no tolerance for sexual assault or harassment at CIA," belies that the CIA had indeed tolerated its officers' sex crimes. To his credit, Burns immediately pledged full cooperation with these probes, and as a career diplomat and outsider to the CIA, he's well-suited to implement change. Last Thursday, CIA announced it would overhaul its processes for handling sexual assault, hire an expert from the Navy's sexual assault prevention program, create an internal task force, and issue guidance on reporting sex assaults.
My law firm represents, pro bono, the first whistleblower to speak to Congress, a married female trainee with a graduate degree and long family tradition of distinguished military and agency service. She reported that a male colleague, who had repeatedly asked her out and sent her lewd messages, snuck up behind her in a stairwell and strangled her with a scarf while making sexual remarks and trying to kiss her.
The trainee immediately reported this assault to her supervisors, security, and eventually 13 other offices within the CIA. She states that in return she received conflicting, often unethical, and even illegal advice, which left her feeling more like a perpetrator than a victim: She shouldn't tell her family. She couldn't try to get her assailant to admit his actions. She shouldn't speak to law enforcement, or the agency would no longer protect her. If she did speak to police, she must lie to protect her assailant's cover, as his privacy interests are paramount. She'd permanently damage her career if she sought mental health assistance. Her assailant might sue her for defamation. "Equal employment opportunity" officials discouraged her from complaining for the same reasons, and asked why she thought she'd been sexually assaulted if she hadn't been raped.