China Tries to Flip an American Ally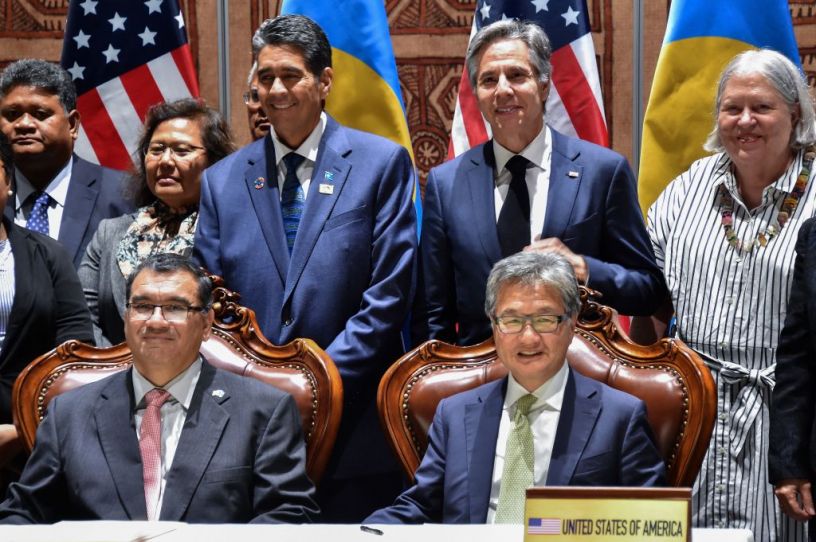 Secretary of State Antony Blinken (back row, right) and Palau President Surangel Whipps (back row left) pose for photos after the signing of Compact Review Agreement in Port Moresby on May 22, 2023. (Photo by Andrew Kutan/AFP/Getty Images)
NGERULMUD, Palau—A tiny Pacific island nation with a population of 18,000 that few Americans can find on the map could be pivotal to defending Taiwan from a Chinese invasion. Even as the Pentagon builds capacity on Palau, however, China is hard at work trying to undermine the U.S.-aligned government—or even flip it.
Older Americans remember Palau for the brutal World War II battles of Angaur (nearly 200 American deaths) and Peleliu (more than 1,500 American deaths). Today it's a remote but somewhat popular destination for divers, who relish the country's pristine coral reefs. But the U.S. military sees value here because it is a mere three-and-half hour flight from Taipei, the capital of Taiwan. Such proximity could prove useful for stationing air and sea vessels, not to mention personnel.
America currently enjoys a "Compact of Free Association" with Palau. The agreement closely links the country with the U.S.: Palauans can work stateside, and they serve in the U.S. military at high rates. They use the U.S. dollar. They even have an American postal code.
Meanwhile, the United States is responsible for Palau's defense and security, and provides substantial services and financial support that annually accounts for more than two-thirds of its $97 million per annum budget. The financial and services components of the compact are periodically renegotiated and renewed. We are currently in a sensitive phase whereby the agreement has been struck, but Congress has yet to sign off. Assuming this one is signed, the next one will not be up for reneweal for another 20 years.