Conspiracy Theorists Need Not Apply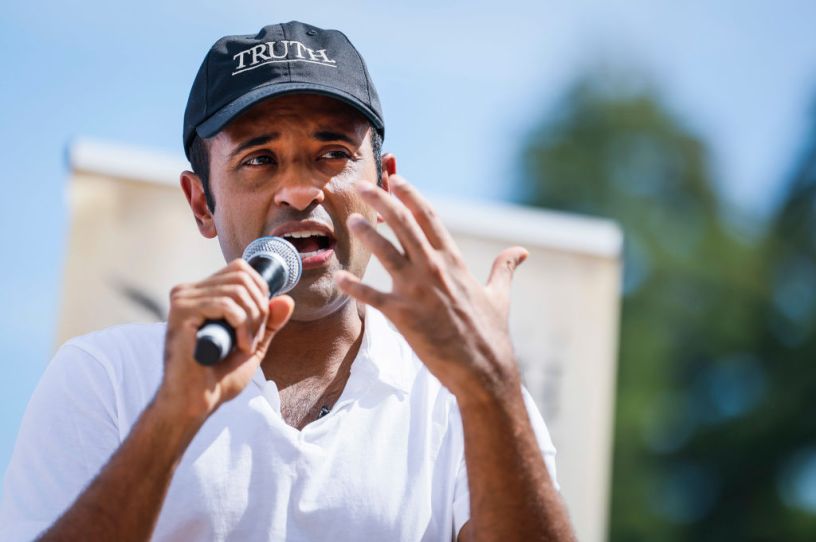 Republican presidential candidate Vivek Ramaswamy speaks to attendees at the Hopkinton State Fair over the Labor Day weekend. (Photo by Erin Clark/Boston Globe /Getty Images)
Republican presidential candidate Vivek Ramaswamy's remarks last month about the September 11, 2001, terror attacks that took the lives of 2,977 innocents afford us an opportunity to end a harmful trend: allowing public figures who indulge in conspiracy theories and make outrageous statements to be deemed fit for high office.
Ramaswamy asks, "How many police, how many federal agents were on the planes that hit the Twin Towers?" and "Do I believe the 9/11 commission?"—answering the latter question, "Absolutely not" because "there are lies the government has told about 9/11" regarding Saudi Arabia's involvement in the attacks.
No serving law enforcement officers were on American Airlines Flight 11 and United Airlines Flight 175. However, 37 Port Authority police officers, 23 New York City police officers, three New York State court officers, an FBI agent, and a Secret Service agent gave their lives rescuing about 47,000 civilians from the World Trade Center.
Since then, more than 300 members of the NYPD have died of Ground Zero-related illnesses, including a friend, Inspector Michael O'Neil of the Counterterrorism Division, and more than a dozen Port Authority police, too. And more than 650 New York City firefighters were killed on 9/11 or felled by related illnesses since, among them a boyhood friend who always dreamed of joining the FDNY. Their names grace renamed streets all over outer borough and suburban New York in a sad roll call. Their sacrifice deserves a better legacy than glib biotechnology entrepreneurs speculating about a conspiracy.
You're out of free articles
Create an account to unlock 1 more articles