It's Up to Congress to Stop the Iranian Nuclear Threat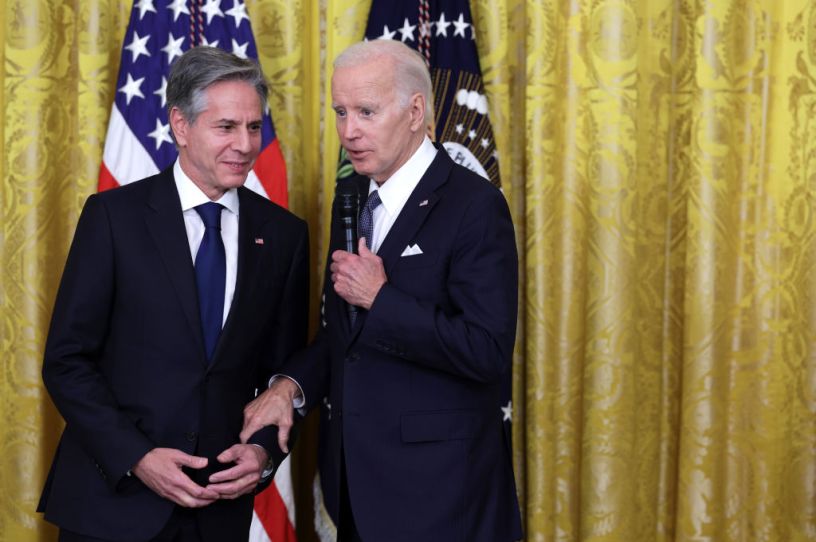 President Joe Biden and Secretary of State Antony Blinken share a moment during a reception in the East Room of the White House on June 13, 202,3 in Washington, DC. (Photo by Alex Wong/Getty Images)
Iran's nuclear program is escalating. The International Atomic Energy Agency (IAEA), the U.N. nuclear watchdog, released new quarterly reports on Monday showing the Islamic Republic has added to key enriched uranium stockpiles, enhancing its ability to make nuclear weapons-grade material. Even so, the Biden administration appears to be moving ahead with a deal that provides Tehran at least $16 billion in sanctions relief, along with unprecedented oil exports.
Last spring, the Biden administration reportedly reached a secret, unwritten understanding with Iran that, among other steps, called for the regime to slow its accumulation of uranium enriched to 60 percent purity in return for $10 billion in frozen Iranian assets held in Iraq. After that initial step, and once the U.S. arranged the release of $6 billion in Iranian assets held in South Korea, the two sides would execute a separate U.S. hostages-for-Iranian-prisoners swap. Both processes are reportedly underway.
Washington is squandering valuable financial leverage while Iran expands its nuclear program—and the Biden administration is setting itself up for future extortion when the regime uses its nuclear program to demand more concessions. If the White House won't take action to stop Iran from acquiring a nuclear weapon, it's up to Congress to use its statutory authorities to exert oversight of the administration's catastrophic efforts and halt them.
The latest IAEA data, circulated in reports to member states, indicates that Tehran has increased its 5, 20, and 60 percent enriched uranium stockpiles since May. Uranium is considered weapons-grade at 90 percent purity, and these increased stockpiles means Iran possesses sufficient enriched uranium to make enough weapons-grade uranium (WGU) for several nuclear weapons within three months.