Cormac McCarthy's Blood and Guts Catholicism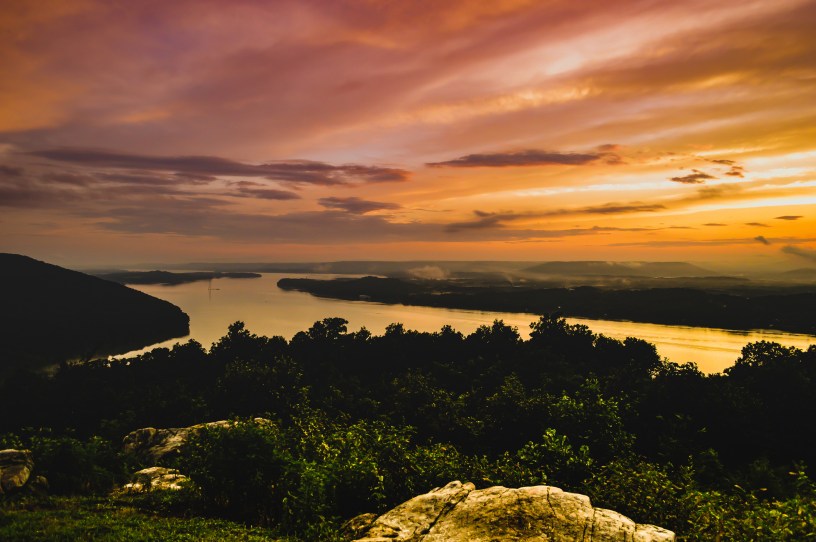 Sunset on the Tennessee River. (Picture via Getty Images)
In the early 1980s, the American writer Andre Dubus submitted "The Pretty Girl" to Esquire. "God, I like this. Why don't you add forty pages to it," said Rust Hills, then-fiction editor at the magazine, as he passed on the novella. "You could make a lot of money. Nobody writes about this Catholic blood and guts." 
Hills was correct, in part: Dubus' work teemed with Catholics and violence. But his pithy comment ignored a cadre of Catholic fiction writers formed by Latin Mass. Don DeLillo, who spoke of its "theater." Toni Morrison, who converted before her teenage years, after falling in love with the language of faith. Thomas Pynchon, whose jesuitical strain of narrative humor arose from his Long Island youth. And not least of all, Cormac McCarthy, who passed away this month at 89.
McCarthy—born in Rhode Island but truly formed in Knoxville, Tennessee—was a preternaturally Catholic writer. He attended parochial schools through high school. He sang at the Church of the Immaculate Conception: Latin at the midnight Mass on Christmas Eve. He was an altar boy. His brother Bill spent a decade in a Jesuit seminary.
Some might think this doesn't track with McCarthy the sweeping Southwestern mythologist, whose cult-classic books like Blood Meridian and No Country for Old Men carry a violent nihilism. (Surely his Catholicism was merely a vestige of his childhood, right?) Yet as we reflect on McCarthy's life and work after his death, we should reconsider his religious sense, and notice how his language and worldview descended from Catholic blood and guts.