Could Kevin McCarthy Give Away Too Much?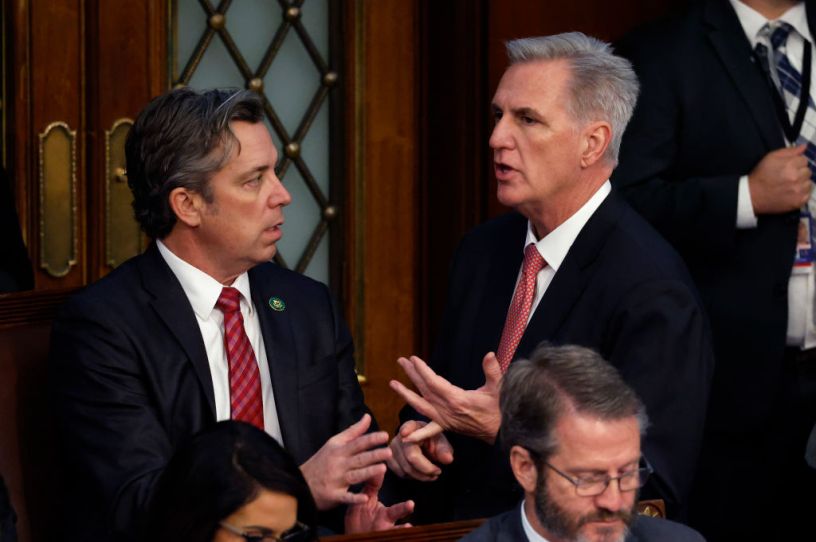 House Republican Leader Kevin McCarthy talks to Rep.-elect Andy Ogles in the House chamber Thursday. (Photo by Chip Somodevilla/Getty Images)
GOP Leader Kevin McCarthy seems willing to give away just about anything to become House speaker. But at a certain point, concessions to far-right members could start to bleed support from his existing allies.
On Thursday night—as the 11th fruitless speakership vote wrapped up on the House floor—McCarthy's camp put in writing more compromises in an effort to woo his detractors: more power for rank-and-file members on the House floor and a one-member threshold to begin proceedings to depose McCarthy if he does become speaker, among other concessions. The mood among Republicans turned optimistic as the House adjourned, with McCarthy's camp telling reporters it expects the deal to net McCarthy several more votes as speaker.
McCarthy faced reporters' questions about whether the concessions would make him a weaker speaker. But with McCarthy critics getting more of what they wanted, murmurs grew earlier Thursday about the risk of McCarthy's support fraying among mainstream Republicans who have, so far, stood by the California Republican.
A primary point of frustration: the anti-McCarthy bloc's push to lead key subcommittees and take spots on the powerful House Rules panel that decides how the chamber will run for the next two years. Such a deal isn't yet final, but if it happens as part of their negotiations, Republicans may grow agitated about Freedom Caucus members leap-frogging other lawmakers with seniority or having disproportionate representation on committees compared to other members.