Despite It All, Can Blake Masters Win?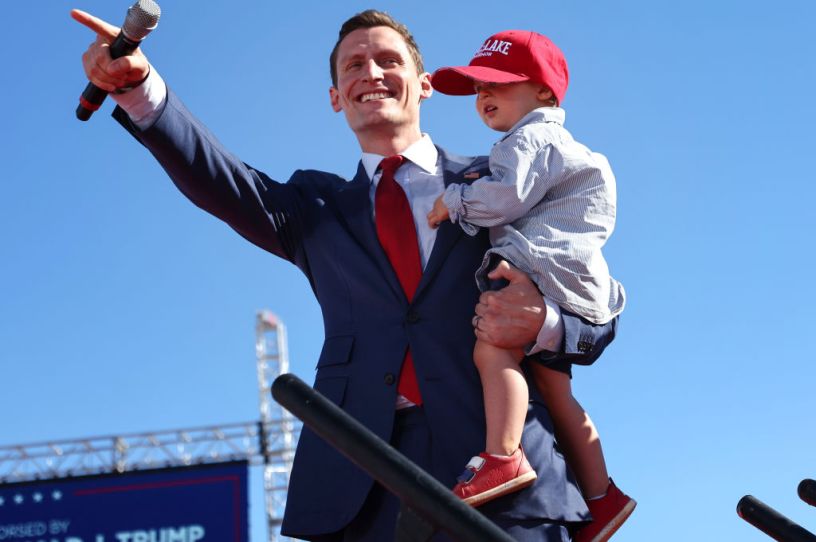 Blake Masters carries 2-year-old son Rex to the stage at a campaign rally in Mesa, Arizona. (Photo by Mario Tama/Getty Images)
PHOENIX, Ariz.—In early September, Blake Masters' campaign looked doomed. Arizona's Republican Senate hopeful was struggling to make up ground against Democratic Sen. Mark Kelly in the polls, buried under a barrage of negative ads and lacking the campaign funds to hit back. And when a prominent Republican super PAC affiliated with Senate Minority Leader Mitch McConnell announced in late September it was cutting bait to focus its spending on other states, it felt like Masters' epitaph.
But now a perfect storm of circumstance has buoyed Masters' campaign, and Kelly's once-comfortable six-point lead in RealClearPolitics' polling average one month ago has suddenly shrunk to 2.5. One Republican pollster last week put the campaigns just one point apart—a fact Kelly's campaign highlighted in a Sunday fundraising email warning that "this race could not be any closer."
In a 50-50 Senate with a whole buffet of swing states up for grabs, there are a few viable paths to a Republican majority. But any map that includes a Masters win is a very grim sign for Democrats.
"If Blake can pull it out, it'll show just how bad the environment is for a middle-of-the-road, well-funded Democrat," Barrett Marson, a Republican strategist who worked with Masters during the primary, told The Dispatch. "Blake has the wind at his back, but that's mostly because of the terrible inflation and economic climate we face."