Did Child Poverty Really Increase Last Year?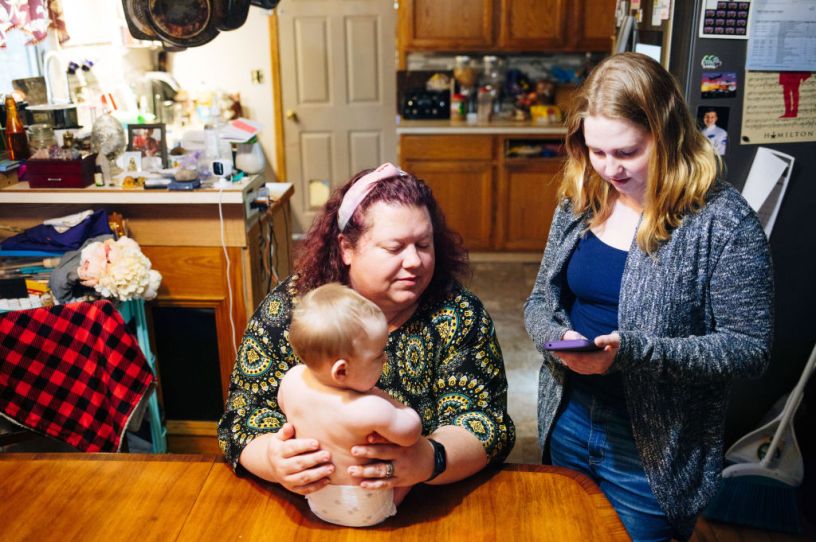 Mali Gank, left, holds her son Jeremiah as she talks to stepdaughter Makayla Gank, right, at the Gank home in Terra Alta, West Virginia, on October 21, 2021. (Photo by Duncan Slade/Washington Post/Getty Images)
In 2021, Democrats succeeded in temporarily expanding the child tax credit (CTC) as part of President Biden's American Rescue Plan. Previously, the maximum CTC of $2,000 per child was available only to workers with income tax liability and who exceeded an earnings threshold. The expansion gave every family $3,000 per child—$3,600 for younger children—regardless of whether it had any earnings.
Debate over this expansion, which lasted only a year because Democrats failed to make it permanent, has centered on the short-term benefits and the potential long-term costs. Because of those costs—in particular the threat to child upward mobility—I opposed the expansion. But I have agreed with supporters that it caused a large reduction in child poverty in 2021 and that the policy's expiration contributed to an increase in child poverty in 2022.
But long-term costs aside, new evidence complicates the leading narrative around short-term benefits. Rather than child poverty falling and then rising as the CTC became more and then less generous, child poverty was lower than ever before in 2022.
For some background, the Census Bureau reports two measures of poverty each year: the "official poverty measure" (OPM) and the "supplemental poverty measure" (SPM). Both the OPM and SPM are flawed, but the SPM does a better job of capturing all the income families receive. For example, in 2020 and 2021, aid to families spiked in response to the COVID-19 pandemic. But much of this aid—including the three rounds of economic impact payments ("stimulus checks"), expanded food assistance, and expanded CTC benefits—was ignored by the OPM because it does not count tax refunds or noncash benefits as income. In contrast, the SPM counted this aid.
You're out of free articles
Create an account to unlock 1 more articles