Do the COVID Vaccines Cause Miscarriages?
A viral social media post claims that the COVID-19 vaccines "are causing miscarriages." The post includes a screenshot of data from what it claims is a list of reports to the Vaccine Adverse Event Reporting System database (VAERS), of pregnant women who had miscarriages after taking the COVID-19 vaccine.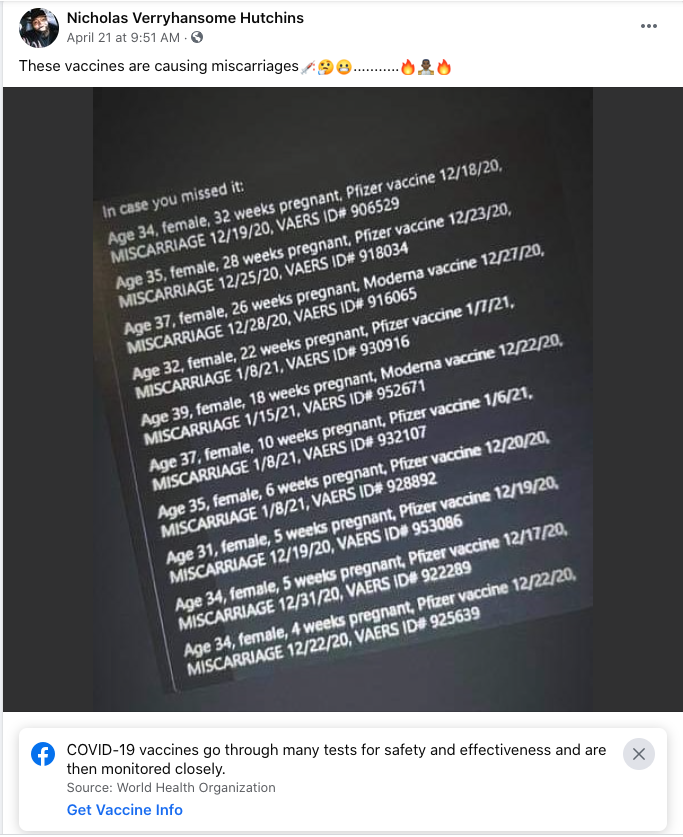 The reports cited in the Facebook post are real reports and can be confirmed by searching VAERS using the ID number. But the data does not mean there is a link between the COVID-19 vaccine and miscarriages. 
The VAERS website includes unvetted and unverified information submitted by the public. The VAERS website states that "VAERS reports alone cannot be used to determine if a vaccine caused or contributed to an adverse event or illness. The report may contain information that is incomplete, inaccurate, coincidental, or unverifiable."
Ronald Gibbs, clinical professor of obstetrics and gynecology at Stanford School of Medicine, noted to the Dispatch Fact Check that VAERS is a collaboration of two governmental organizations: the CDC and the FDA. "It's purpose," he noted, "is to passively have individuals be able to report any adverse effects from a vaccine."