Dominion v. Fox News: A Good Case, But Not a Slam Dunk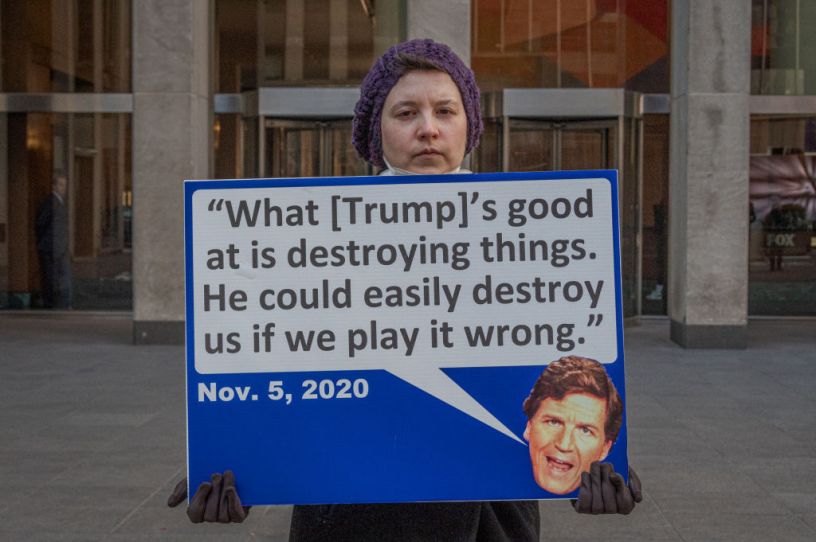 Members of the activist groups Truth Tuesdays and Rise and Resist gathered outside the NewsCorp Building in Manhattan on March 7, 2023. (Photo by Erik McGregor/LightRocket/Getty Images)
At this point, it's safe to say that Dominion Voting Systems has a good chance of prevailing in its $1.6 billion defamation case against Fox News. Documents filed in the case reveal that Fox News executives and on-air figures privately doubted the election fraud claims of President Donald Trump and his sort-of lawyers, Rudy Giuliani and Sidney Powell, even while they were boosting election conspiracy theories in their programming on a daily basis. This is the sort of evidence lawyers drool over. But the voting machine company must still fight an uphill battle. 
The Supreme Court established decades ago in New York Times v. Sullivan that the First Amendment provides robust protections for news publishers to be wrong about factual matters and to report on people who are wrong about factual matters. To win its case, then, Dominion must show not only that Fox News published false statements about Dominion that tended to injure it, but also that Fox acted with "actual malice." The term the Supreme Court chose, "actual malice," is a bit misleading. Actual malice doesn't mean, in this context, that Dominion must show that Fox had ill will. "Actual malice" means that Dominion must show that Fox published the false and defamatory statements with knowledge of or reckless disregard for their falsity.
For its part, Fox News has mounted a two-pronged defense. The news company argues that it had the right to report on "newsworthy allegations," pointing to the fact that they were covering the statements of the then-president of the United States and his surrogates about a matter of grave concern to the American public. Fox also argues that the statements of their on-air figures were opinions, and that they had not made any conclusions about whether the election fraud claims of their on-air guests were true or false. Both of these defenses lean on the Supreme Court's "actual malice" standard. And both of these defenses ask the court to extend broad speech protections for news publishers to report on third-party speech.
But in light of the revelations about the behind-the-scenes texts and emails of these on-air figures, these defenses will likely only get Fox News so far. It's possible that some of the early post-election statements that Dominion says were defamatory were not made with knowledge of falsity or reckless disregard for falsity. In the early, hectic days while states were still conducting recounts and finalizing vote tallies, it's possible that Fox figures might reasonably have wondered about the truth of the fraud claims without knowing whether they were true or not. But certainly as the weeks wore on without any evidence of significant fraud, much less for Giuliani and Powell's crazy theories, it starts to look more like they knew the stolen election claims were false and continued to air them anyway. If Fox News actively avoided knowledge of falsity then the "actual malice" standard will not protect the company.
Keep reading with a free account
Create a free Dispatch account to keep reading
Get Started
ALREADY HAVE AN ACCOUNT? SIGN IN