Fact Check: Did Donald Trump Send 13-Year-Old Drinking Water to East Palestine?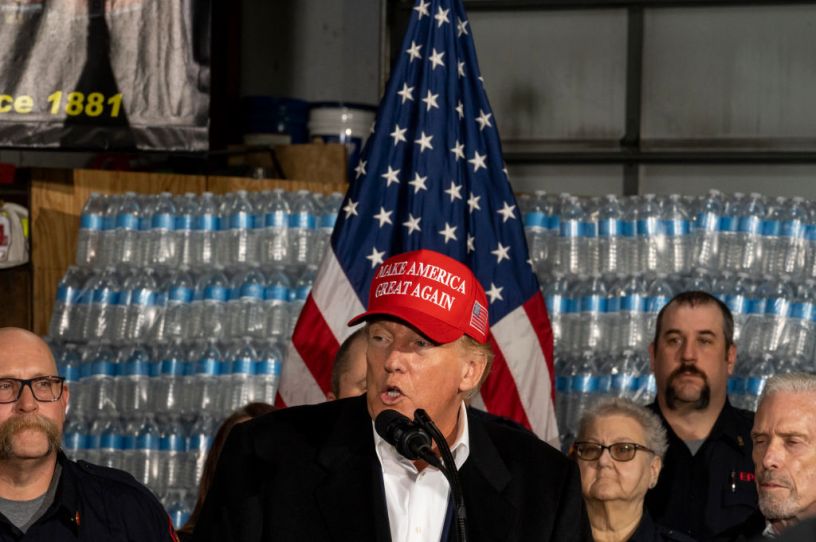 Former President Donald Trump stands next to a pallet of water before delivering remarks at the East Palestine Fire Department station on February 22, 2023 in East Palestine, Ohio. (Photo by Michael Swensen/Getty Images)
Claims are circulating online that Donald Trump has sent bottles of 13-year-old self-branded drinking water to the citizens of East Palestine, Ohio, after a train carrying toxic chemicals derailed earlier this month.
These claims are false. Trump did in fact send bottles of self-branded water to East Palestine, but they are from a different Trump brand than the claims are citing.
The false claims feature a photo of "Trump Ice" drinking water that ceased production in 2010. Instead, they are bottles of "Trump Spring Water."
Trump spoke at an event held on February 22 at a fire station in East Palestine during which he pledged "thousands of bottles of water —Trump water, actually, most of it."
After the speech, photos began to circulate online of a case of yellow-looking "Trump Ice" water with captions suggesting that the case belonged to a shipment brought to East Palestine. However, the image has been digitally altered to make the water in the bottles appear yellow. The original photo was taken in 2015, and is of a case of "Trump Ice" sent to Sen. Marco Rubio by Trump as a prank during the 2016 race for the Republican presidential nomination. Authentic photos taken by Reuters of the "Trump Spring Water" bottles that were actually brought to East Palestine can be viewed here and here.
The Dispatch Fact Check has contacted the Trump Organization for comment.
If you have a claim you would like to see us fact check, please send us an email at factcheck@thedispatch.com. If you would like to suggest a correction to this piece or any other Dispatch article, please email corrections@thedispatch.com.
---
Thank you for reading. Support our work by joining The Dispatch.