Fact Checking Vivek Ramaswamy's Claims About January 6 Defendants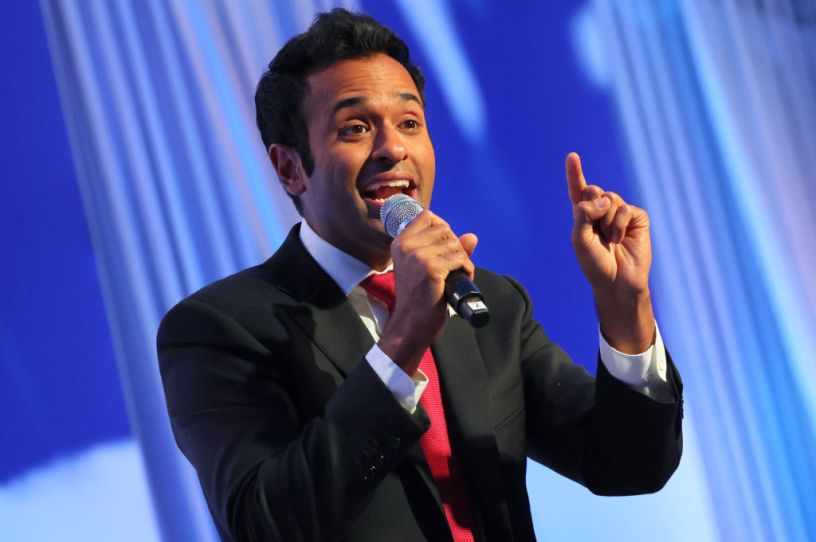 Republican presidential candidate Vivek Ramaswamy speaks during the Moms for Liberty Joyful Warriors national summit on July 1, 2023 in Philadelphia, Pennsylvania. (Photo by Michael M. Santiago/Getty Images)
Last week, Republican presidential candidate Vivek Ramaswamy posted a tweet claiming the United States has a "two-tiered" justice system. "Antifa & BLM rioters roam free while peaceful January 6 protesters are imprisoned without bail," he wrote. "Biden's 'Department of Injustice' has executed over 1,000 arrests for nonviolent offenses related to January 6." He vowed that as president, he would pardon "targets of politicized federal prosecutions & those denied due process."
The claim that peaceful January 6 protesters have been held without bail, which has become widespread in some quarters of the right, is false.
According to the U.S. Attorney's Office for the District of Columbia, as of September 7, 2023, more than 1,146 individuals have been arrested in connection with the Capitol riot in nearly all 50 states, including 398 charged with assaulting or impeding a law enforcement officer. Details and documentation for every arrest made thus far are publically available on the Department of Justice website. According to NPR—which has been separately tracking every criminal case related to the storming of the Capitol—632 of the arrestees have been sentenced thus far, 64 percent of whom have received prison time, and the median sentence has been 120 days.
While it is true that some arrestees have been held without bail, this is only the case for those defendants who have been deemed to be at high risk of obstructing justice, a danger to the community, or a flight risk. "It's just the ones who are accused of violent crimes that are being held without bond," Gabriel Malor, a Virginia-based appellate lawyer told The Dispatch. "Even some of the ones actually accused of violent crimes are being let out, usually with an ankle monitor." Richard Barnett, for example, was found guilty on eight counts in January 2023, including taking a dangerous weapon into the Capitol and interfering with a police officer—and was ordered to wear an ankle monitor and serve home detention while awaiting his trial date. Others, like Kyle Fitzsimons—a Maine native who assaulted law enforcement officers at the Capitol, forcing one to take medical retirement from a partially torn rotator cuff and labrum—were denied bail. Fitzsimons, who was identified as being a danger to the community and flight risk by a federal judge, was sentenced in July to 87 months in prison on 11 charges, including seven felonies. When reached for comment, the U.S. Attorney's Office for the District of Columbia was unable to give The Dispatch a precise breakdown of charges or the total number of detainees held without bail—but the number is far fewer than 1,000.
GOP Rep. Ken Buck of Colorado responded to additional false statements surrounding January 6 detainees in a recent letter to Todd Watkins, the vice chairman of the El Paso County Republican Party. "Of those still held in custody, 85% are charged with assaulting a law enforcement officer, a felony," Buck wrote. "The remainder are charged with conspiracy or possession of a deadly weapon on Capitol grounds, also felonies." According to the letter, none of those being held currently or at any point were accused of nonviolent misdemeanor crimes. "All defendants held without bond at any point were charged with felonies," Buck emphasized.
Because defendants are facing federal charges stemming from actions taken within the District of Columbia, those not offered bail and still awaiting trial are held in the D.C. Central Detention Facility (CDF). A bipartisan congressional delegation toured the wing where detainees continue to be housed in March 2023, after which some Republicans, such as Rep. Marjorie Taylor Greene, claimed that defendants weren't receiving access to some of the educational and recreational services provided to other inmates and were being held for too long. On the contrary, some Democrats on the tour argued that defendants were receiving uniquely favorable conditions compared to other inmates. The CDF has long received criticism for poor conditions, and an inspection carried out by the U.S. Marshals Service in November 2021—which was completed after complaints were raised by the lawyers of a number of January 6 defendants—determined that there was evidence of "systemic failures" at the facility including the punitive withholding of food, widespread drug use among detainees, and inconsistent access to water.
Ramaswamy's claim that "Antifa and BLM rioters roam free" is also largely untrue. More than 10,000 protesters were arrested nationwide during the unrest following the death of George Floyd in the summer of 2020, though most for low-level offenses like violation of curfew and failure to disperse. Some, however, such as the two young lawyers who torched a police vehicle in Brooklyn, were sentenced to time in prison for their actions, and hundreds were arrested on burglary, looting, and assault charges.
A spokesperson for the Ramaswamy campaign refused to offer clarification or comment when asked about the candidate's tweet by The Dispatch.
If you have a claim you would like to see us fact check, please send us an email at factcheck@thedispatch.com. If you would like to suggest a correction to this piece or any other Dispatch article, please email corrections@thedispatch.com.