A Simple Solution to Major League Baseball's Problems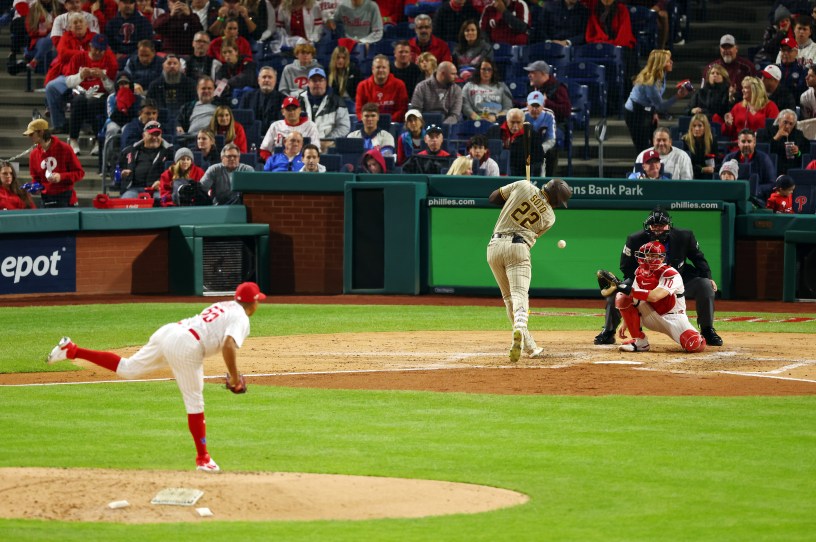 PHILADELPHIA, PENNSYLVANIA - OCTOBER 21: Juan Soto #22 of the San Diego Padres is hit by a pitch during the fourth inning against the Philadelphia Phillies in game three of the National League Championship Series at Citizens Bank Park on October 21, 2022 in Philadelphia, Pennsylvania. (Photo by Mike Ehrmann/Getty Images)
Baseball has historically occupied a significant place in our nation's psyche, from the story that the game's inventor, Abner Doubleday (who likely didn't really invent it), also fired the first shot for the Union in defense of Fort Sumter (he likely did do that), to "The outlook wasn't brilliant for the Mudville nine that day," to John Updike's description of Fenway Park as a "lyric little bandbox," to the moment at the end of Field of Dreams that causes any father with a beating heart to choke up: "Hey, Dad. You wanna have a catch?"
Which is why it matters that Major League Baseball (MLB) is in crisis. This year, 23 of its 30 teams are down in attendance from last season. Overall attendance in 2022 has declined by 6.4 percent when compared to 2019, the last year in which COVID-19 was not a significant factor, making this the fifth consecutive non-pandemic-affected season in which MLB attendance has declined.
If demography is destiny, then baseball's isn't promising. Fully half of those watching baseball games on television are 55 or older, up from 41 percent a decade ago. At the other end of the age scale (i.e., the place that future fans are going to come from), there were 9 million youngsters between the ages of 7 and 17 playing organized baseball in 2002. In 2013 that number was 5.3 million.
According to Gallup, baseball has fallen from the preeminent position that it had among America's spectator sports through the mid-1960s, to where it now trails football, basketball, and, if trend lines since 2017 have held, soccer as well.