Here Comes Herschel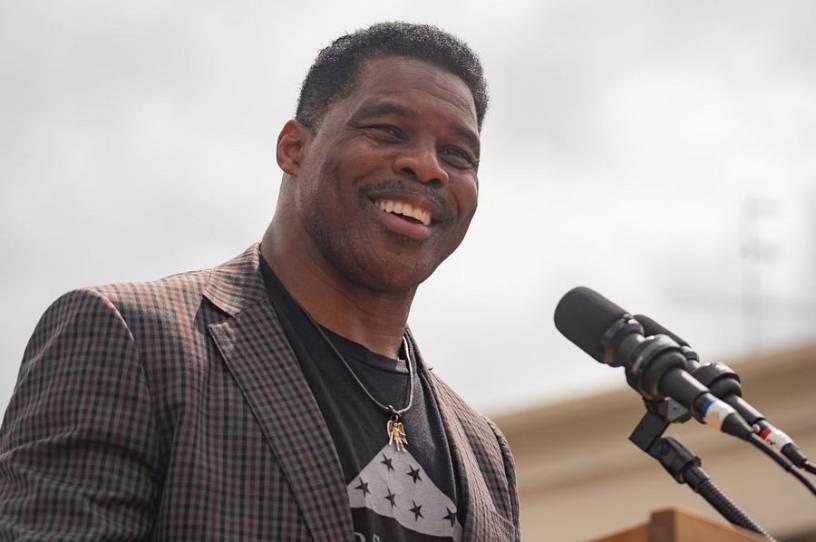 NORCROSS, Ga.—It's hard to make the case for Herschel Walker, the Republican candidate challenging Georgia Democrat Sen. Raphael Warnock, without talking about the past.
Here, for instance, was state attorney general Chris Carr, warming up the crowd at Walker's Friday event in the parking lot of a local mall: "When I was a kid, I got in a lot of trouble because of him. I'd put on my Georgia T-shirt. I'd grab that football, and I'd dive over the couch, just like Herschel Walker used to do when he was scoring touchdowns. My parents said, 'You're gonna break that couch,' but I didn't care. I wanted to be like Herschel Walker, because Herschel was the leader."
Walker's heroic football history—a three-year run in the early '80s in which he set numerous NCAA rushing records, won the Heisman trophy, and led the Georgia Bulldogs to three SEC championships and one national title—helped him breeze to victory in this year's GOP Senate primary. (Early endorsements from Donald Trump and other top Republicans also helped him beat the first runner-up, agricultural commissioner Gary Black, by 55 points)
Talk to Walker's supporters at events today, though, and you'll notice an odd pattern: They've become oddly interested in avoiding the past.