How Soon Will We Know Who Won the Senate?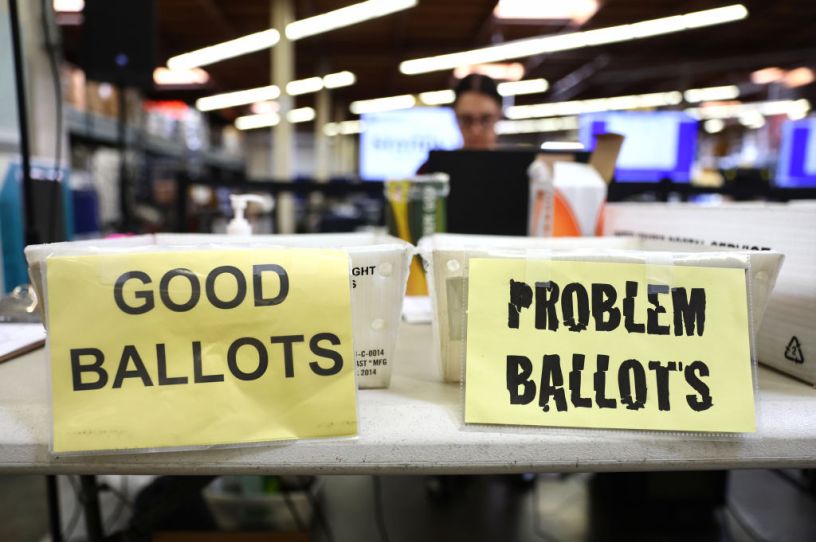 An election worker processes vote-by-mail ballots in Santa Ana, California. (Photo by Mario Tama/Getty Images)
Hey, Mom, we made it! The grueling 2022 election season, which featured wildly unprecedented levels of midterm-year spending, will reach its conclusion Tuesday. But as in 2020, it might take a few days to answer the election's preeminent outstanding question: Which party will take control of the deadlocked U.S. Senate?
Even if all goes to plan, it may be weeks before we know the winner in Georgia's Senate contest. That's because Georgia is alone among this year's battleground states in employing a runoff system for statewide races: If no candidate breaks 50 percent of the vote, the top two vote getters go to a head-to-head contest in January.
That's far from an implausible outcome in this year's contest between Democratic Sen. Raphael Warnock and GOP challenger Herschel Walker. The two are neck and neck in the polls—FiveThirtyEight's polling average favors Warnock by .4 points, while RealClearPolitics gives a 1.5-point edge to Walker. If Libertarian spoiler Chase Oliver grabs a couple points too, as polls have suggested he could, that's easy runoff material. (In Georgia's regularly scheduled 2020 Senate contest, Libertarian Shane Hazel got more than 2 percent of the vote, which was enough to force a runoff between Republican Sen. David Perdue and Democrat Jon Ossoff; Ossoff ultimately triumphed in the January 2021 rematch.)
Even the question of whether a runoff will be necessary may take a few days to determine. "A close election will drag it out," Georgia Deputy Secretary of State Gabe Sterling told The Dispatch. "In Georgia we finished counting before most other states last time, but we had a close race."
Keep reading with a free account
Create a free Dispatch account to keep reading
Get Started
ALREADY HAVE AN ACCOUNT? SIGN IN