'If You Lose Control of the Rules Committee, You've Lost Control of the Floor'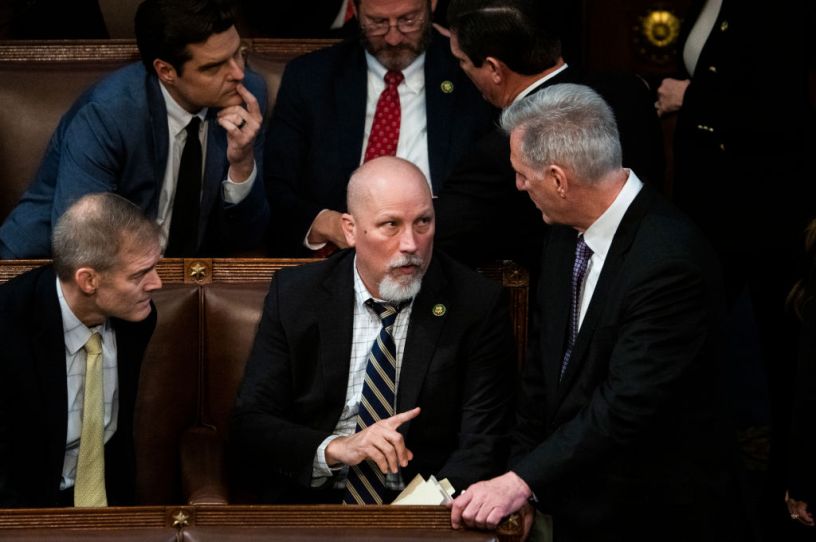 Rep. Chip Roy, Speaker Kevin McCarthy, R-Calif., right, and Rep. Jim Jordan on the House floor of the U.S. Capitol before a vote. (Tom Williams/CQ-Roll Call, Inc via Getty Images)
House Speaker Kevin McCarthy's move to appoint three rebellious members onto the House Rules Committee will likely be a boon to the most anti-establishment wing of the Republican Party. It'll also pose a new test of wills for McCarthy and his GOP detractors, particularly when it comes to fraught issues like government funding and raising the debt limit.
"It puts in the hands of a very small number of people—who weren't elected to any position within the leadership or in the conference—the power to sink anything that the majority would like to do," said Brendan Buck, who previously worked for former Republican Speakers John Boehner and Paul Ryan. "If you lose control of the Rules Committee, you've lost control of the floor."
Two of those three members—Reps. Chip Roy of Texas and Ralph Norman of South Carolina—are members of the Freedom Caucus and initially opposed McCarthy's speakership but flipped after accepting a still-murky list of McCarthy concessions. Serving beside them will be Rep. Thomas Massie, who generally holds a libertarian line on fiscal policy and foreign affairs. He supported McCarthy throughout his entire speakership battle.
With nine Republicans and four Democrats on the powerful Rules Committee, House GOP leaders will have to continue to appease hardline members on rules governing debate, amendments, and which bills are brought to the floor.