ImPOTUS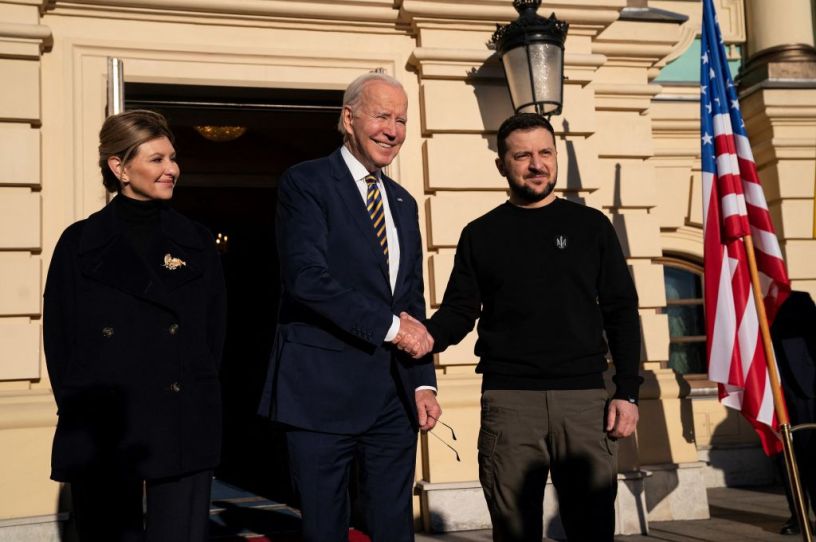 President Biden with Ukrainian President Volodymyr Zelensky and his wife Olena Zelenska in Kyiv, February 20. (Photo by Evan Vucci/ / AFP/Getty Images)
There is in psychiatry something called the "Goldwater rule," which holds that it is unethical for a psychiatrist to offer a psychiatric evaluation of a person he has not examined and received authorization to speak publicly about. I am not a psychiatrist, but, in the spirit of the rule: I am happy—proud, even—that Joe Biden went to Kyiv and said (or tried to say) all the right things, but his halting, sometimes slurred speech did not do him any favors with Americans who worry that he is not up to the job with which he has been entrusted.
What Biden sounded like, to my ear, was drunk. Of course, he wasn't drunk—like his immediate predecessor in the office, he is a teetotaler. But Biden is 80 years old and is not what any honest observer would call an astoundingly sharp 80-year-old. There are such men, but Biden is not one of them. He stumbles, mumbles, and wanders. He has better and worse days. There is—I think even such admirers as he has must agree—good reason to think that, even with the most liberal assumptions, he is not fit for the job.
When Sen. Barry Goldwater ran for president in 1964, many psychiatrists—most of them cowards speaking from behind the veil of anonymity—exploited and abused the prestige of the medical profession to electioneer against the Republican standard bearer. They offered very specific-sounding diagnoses, as psychiatrists (and their bastard offspring, psychoanalysts) often do: One diagnosed Goldwater with "chronic psychosis"; another charged that he was a "paranoid schizophrenic"; another claimed that "Goldwater has the same pathological makeup as Hitler, Castro, Stalin, and other known schizophrenic leaders." Many of these opinions were offered in response to a Fact magazine survey asking psychiatrists about Goldwater's psychiatric fitness for the presidency. The American Psychiatric Association lambasted the magazine and its "purported 'survey'" and promised that it would "take all possible measures to disavow its validity."
The psychiatric profession's long and horrifying history of allowing itself to be coopted by repressive regimes—or happily doing their dirty work—was a common theme in the history of the 20th century, particularly in the Soviet Union, where dissent from official socialist ideology was often repressed by means of psychiatric "diagnosis" and coercive "treatment." The wider tendency of the medical profession to seek to use its medical authority as a political weapon (see, for example, the attempted medicalization of the gun-control debate) is all too frequently observed in the United States, which is one of the reasons that Nikki Haley's loose talk about imposing medical "competency" tests on political candidates is a foolish piece of demagoguery. Consider the education establishment's redefinition of "competency" (in this case "cultural competency") to mean the unquestioning submission to certain political orthodoxies.