Iran's Heir Apparent and a Divided Diaspora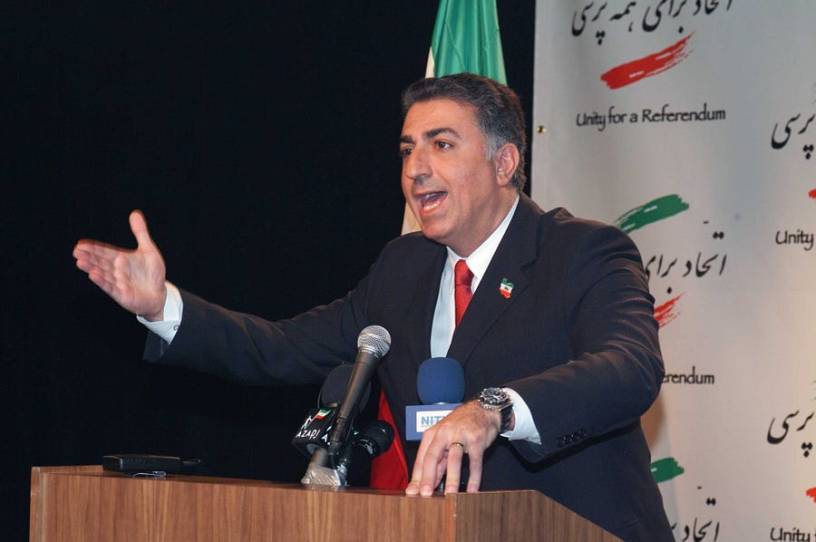 More than a decade ago, something strange began to take root in Iran. In living rooms across the country—from Shiraz to Tehran to Mashhad—families gathered to tune into documentaries, singing competitions, cooking shows, and films all broadcast by a London-based Persian language channel. Manoto, launched in 2010, afforded viewers a rare glimpse into Iran's pre-revolutionary past in the accessible form of entertainment programming. It has since amassed a viewership of 40 million strong.
One of the station's most popular shows features archival footage and pictures of the country under Mohammad Reza Pahlavi, the late shah deposed in Iran's 1979 uprising. The scenes of a bygone era reveal a strikingly modern society with reels of women dancing, young people drinking, actors starring in feature films, and the royal family jet-setting in the final years of its reign. 
The deceptively simple model proved disruptive. In 2016, regime authorities seized and destroyed 100,000 satellite dishes and receivers, citing the power of foreign broadcasters to "deviate the society's morality and culture." In 2019, Iran's ambassador to the United Kingdom accused Manoto of running "propagandistic" material using the Iranian people's "plundered wealth." And for years, Islamic Republic officials have created a public health crisis among Iran's populace by jamming satellite signals using carcinogenic electromagnetic waves. 
But despite Supreme Leader Ali Khamenei's best efforts, Manoto and other diasporic networks exposed many Iranians to a period long obscured in the Islamic Republic's official record. And to the clerical regime's great alarm, reverberations of renewed interest in Iran's monarchical history began to ring out in its streets.
You're out of free articles
Create an account to unlock 1 more articles