Israel's Less-Than-Secret War Against the Iranian Nuclear Program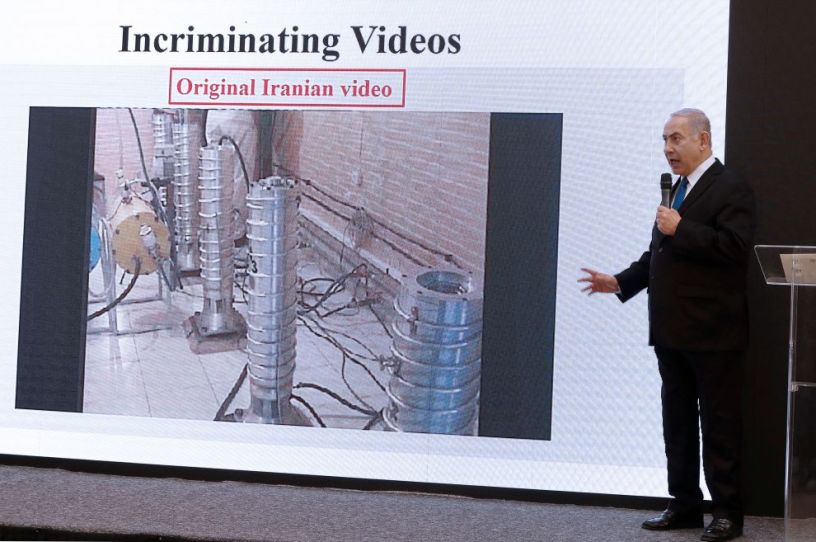 Israeli Prime Minister Benjamin Netanyahu delivers a speech on Iran's nuclear program at the defense ministry in Tel Aviv on April 30, 2018. (Photo by Jack GUEZ / AFP) (Photo by JACK GUEZ/AFP via Getty Images)
The United States and Israel share a goal of keeping Iran from being a nuclear state, but the two nations have undertaken vastly different measures to achieve that aim. In 2016, Barack Obama sent pallets of cash to Iran as part of a $1.7 billion ransom for five American hostages, which happened to coincide with the implementation of the Joint Comprehensive Plan of Action (better known as the Iran nuclear deal). He also pardoned Iranian prisoners held in the United States. Naturally, Iran proceeded to take more hostages. Some of them are now coming home after Joe Biden agreed to pay a $6 billion ransom.
And plans are in the works to release up to $10 billion more of frozen Iranian assets. A lighter touch on the enforcement of oil sanctions has led to a surge of Iranian exports, bringing in billions each month. There is no acknowledged quid pro quo, yet all signs point to an informal nuclear deal under which Iran will not produce weapons-grade uranium. The White House needs the deal to stay informal, because U.S. law gives Congress the right to review any agreement. Such a flimsy deal makes no sense strategically, but it does allow the president to avoid the embarrassment—just ahead of a tough reelection fight—of Iran reaching the nuclear threshold despite 30 years of American promises it never would.
Israelis, meanwhile, are shaking their heads at Biden's giveaways. Fully appreciating the depth of Iranian hostility toward the Jewish state and the West, Israel has spent more than a decade sabotaging the Iranian nuclear program. Many Israeli exploits have become public knowledge, thanks both to journalists and to the government's desire to advertise its successes. Yet until now, no book has put all the pieces of the story together while adding new information derived from high-level sources within the Israeli government.
To understand the Israeli campaign from the perspective of its architects, the indispensable source is Target Tehran: How Israel Is Using Sabotage, Cyberwarfare, Assassination—and Secret Diplomacy—to Stop a Nuclear Iran and Create a New Middle East by Yonah Jeremy Bob and Ilan Evyatar, a pair of investigative journalists with The Jerusalem Post. The authors had access to three former directors of Mossad, two former prime ministers, and numerous other senior officials. The source who guides readers through much of the story is Yossi Cohen, director of Mossad from 2016 through 2021, who oversaw the stunning theft of more than 100,000 documents from the nuclear archive hidden in a non-descript warehouse on the outskirts of Tehran. Prime Minister Benjamin Netanyahu revealed that operation to a global audience in the spring of 2018, but Target Tehran brings new details to light.
You're out of free articles
Create an account to unlock 1 more articles