Joaquin's Delicate Condition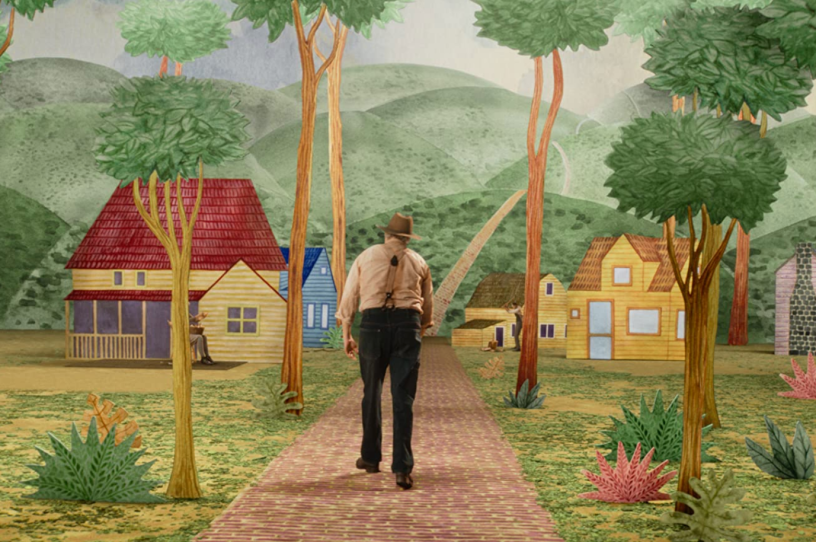 Joaquin Phoenix in 'Beau Is Afraid.' (Photo courtesy IMDb.)
Modern society, for all its luxuries and technological miracles, can be terrifyingly inhospitable. That seems to be one takeaway of Beau Is Afraid, the third feature from writer-director Ari Aster, who has rapidly established himself as a cinematic enfant terrible in recent years. Aster's previous two films—the excruciatingly predictable Hereditary (2018) and the pointlessly lurid Wicker Man pastiche Midsommar (2019)—were both directed with formidable style, but their insipid storylines failed to display that same creativity. Here, he seems intent not only on addressing his past shortcomings, but on outdoing his own propensity for the grotesque. Beau Is Afraid does not conceal its many literary and cinematic inspirations, but there's nothing derivative about its mushroom-trip-meets-psychogenic-fugue of a script.
Joaquin Phoenix plays the titular Beau Wassermann, a squishy and gray man, dressed exclusively in muted colors, with a face that's frequently either terrified or incredulous. We find him living in a dilapidated apartment amidst an anarchic neighborhood. Adult establishments, broken glass, and flaming garbage cans decorate the streets. Murderous lunatics and savage criminals run wild at all hours of the day. It's a Fox News caricature of Portland made hellish reality. Aster seemingly tries to place a typical American city in a funhouse mirror, exploring what could occur if a neglected pocket of lawlessness and decay consumed an entire urban environment. The result is equally stunning and sickening.
Beau initially appears to be little more than a vehicle for Aster to showcase the horror of the world he's dreamed up. Though naturally docile, his meekness clearly stems from some repression, and the baggage weighing on his psyche causes him to suffer from crippling anxiety. He fears even the most mundane aspects of daily life—packing a suitcase is enough to provoke a panic attack—and exists in a bubble of carefully ordered solitude. The look of perpetual fright on his face amplifies the chaos around him as he scampers to and from his apartment building, running at Olympic speed to evade his marauding neighbors.
Phoenix, as usual, is unrecognizable: He transforms completely into the part and inhabits it without once faltering throughout all three of the film's increasingly deranged hours. For much of that time he wears a desperate expression and speaks in a simpering tone—at first relying too heavily on the tricks that won him an Oscar for Joker (2019)—but there's a dynamism to his performance that keeps it lively. Sometimes he can be grimly hilarious, while in other moments his anguished howls are almost physically painful to watch.
You're out of free articles
Create an account to unlock 1 more articles