Lax Sanctions Enforcement Has Yielded a Windfall for Iran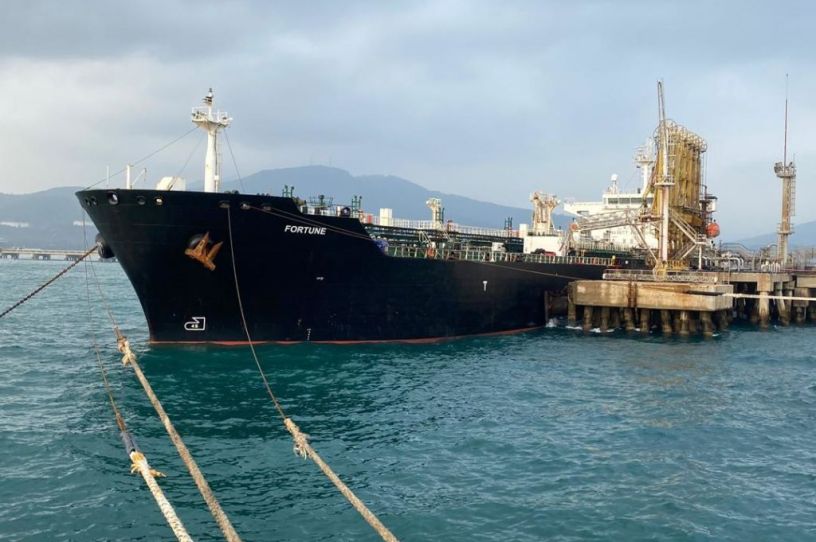 Iranian flagged fuel tanker "Fortune" is seen docked at El Palito refinery in Puerto Cabello, Venezuela, on May 26, 2020. (Photo by Anadolu Agency/Getty Images)
Hamas' horrific attack on Israel has prompted a debate within Washington about U.S. policy toward Hamas' top external patron—and the world's foremost state sponsor of terrorism—the Islamic Republic of Iran. Most of the attention has been on the $6 billion in Iranian assets that had been unfrozen as part of a hostage deal, termed by others as ransom. The U.S. and Qatar announced Thursday that those funds would not be released. But that controversy risks overshadowing a larger issue: Iran has made tens of billions of dollars from oil sales thanks to the Biden administration's reluctance to enforce sanctions.
The lax sanctions enforcement stems from not only a political desire to punt the Iran problem to 2024, but also to try to restore what at this point appears to be a lesser version of the 2015 Iran nuclear deal known as the Joint Comprehensive Plan of Action (JCPOA). When the Biden administration entered office, Iranian intransigence was not the only hurdle to restoring the JCPOA. The Trump administration's "maximum pressure" campaign against Iran had involved a "sanctions wall" of non-nuclear penalties predicated on non-nuclear threats rooted in Iranian policy that were layered on existing nuclear sanctions.
Biden could have used existing sanctions architecture and the substantial financial leverage it provided to pressure Tehran for more concessions. Instead, he opted to dismantle the sanctions wall, albeit indirectly and gradually, so as to avoid both congressional oversight and public criticism—but in a manner deemed intelligible and tempting to Tehran's theocrats.
The problem? It did not work. A new formal agreement with Iran failed to materialize. Tehran has escalated its program to include stockpiling highly enriched uranium at 20 percent and 60 percent purity, the latter of which is technically more than 90-plus percent of the way needed to attain weapons-grade levels. Using these stockpiles, Iran can produce enough weapons grade uranium (WGU) for one bomb in 12 days.
You're out of free articles
Create an account to unlock 1 more articles